Face to Face: Patriot Features founder Sean Winn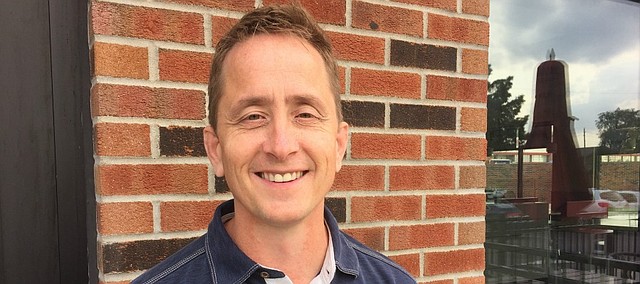 Name: Sean Winn
Born: Oklahoma City
Family: Wife, Elizabeth, and two children: son Taylor, 25, and daughter Elin, 22.
Occupation: Founder of Patriot Features and 15/5 Features
Dream job as a child: Winn wanted to be an actor and pursued that dream all the way to Hollywood, briefly. Winn earned an associates degree in acting and moved to Los Angeles for six months to give himself a chance at making it big in the entertainment world. He made appearances in popular television shows "Darma and Greg," "West Wing," and "Walker Texas Ranger" as an extra. After six months, Winn realized that making a living for his family in Hollywood wasn't realistic and came back to the Midwest.
Digging deeper: Winn has long been passionate about movies and film.
In 2003, he turned that passion into a career and started a company called 15/5 Features which produces personal and brand documentary films. The company produces short documentaries for individuals wanting to document a beloved relative or a company seeking to tell their brand's story through film.
"Everything today is story driven," Winn said, explaining how he thought he could find a niche in the film industry.
Through his work with 15/5 features and through working as the videographer for Heartland Honor Flight, capturing the trips of local World War II veterans to the nation's capitol, Winn began meeting and filming many local veterans. These projects lead him to start Patriot Features, a non-profit organization with the goal of producing professional quality documentaries as gifts to veterans. The videos are a way to document their stories for families and the community to keep forever.
"I've always had a passion for veterans and the military and this was a great way for me to do something for them," Winn said.
To fund these projects, he relies on sponsors and donors and he continues to look for more donors to support his mission of telling veterans' stories while there are still World War II veterans alive.
Winn has worked with dozens of local veterans including Shawnee's Roy Shenkel and Don Boyer. In making the documentaries, Winn interviews each veteran in their own home and learns about their service and home life. One of the questions he likes to ask each veteran is, "What do you want people to know about those who served in World War II?"
The answers are often emotional and Winn says he develops deep relationships with the veterans he features by going through the entire process, including hours of editing. He said he spends hours with them after the interviews, editing the footage. He said he doesn't fully recognize the emotion and meaning of the person's interview until he lets his wife screen the final version of the documentaries.
"Anytime you see your product through someone else's eyes, that's when it gets you," Winn said.