Shawnee Modern Dentistry brings technology to practice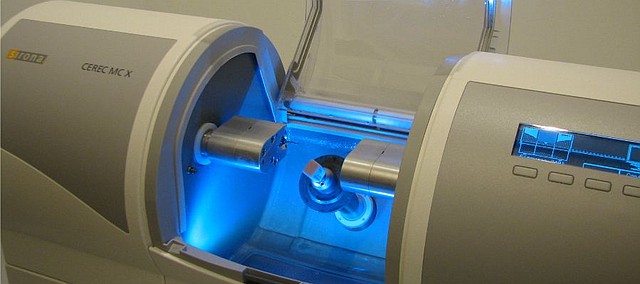 Shawnee Modern Dentistry takes a modern angle to dentistry by offering instant crown molding technology that they say is both timely and cost effective.
Office manager Morgan Lenz says Shawnee Modern Dentistry is different from other dentistry offices because of the CEREC machine. It allows the dentists to make a digital image of a tooth, mill a personalized porcelain ceramic crown and attach the crown in less than two hours. Lenz said the machine allows the office to target what patients really want, which is a painless, timely experience.
"It saves you from a lot of that pain of fitting," Lenz said.
Shawnee Modern Dentistry's two dentists are Dr. Ramit Joshi and Dr. Nicholas Bell.
Joshi is Indian and earned his degree in dentistry from Ajman University Of Science and Technology School of Dentistry in the United Arab Emirates. Joshi moved to Shawnee from Columbus, Mo., with his wife, Neha Sood, who is from Shawnee, and their 17-month-old son, Nimit. Sood is a family physician in the area and a graduate of Shawnee Mission Northwest High School and the University of Kansas.
Joshi was attracted to Shawnee because of its diversity and Indian population and is also happy to live in his wife's hometown. The move also allows them to be closer to their family, including their parents and siblings.
"We are very happy that we decided to come closer to family and have that environment for our son," Joshi said.
Bell is a University of Missouri graduate from Florida who has been practicing dentistry since 2006. Both say on the Shawnee Modern Dentistry website that they are dedicated to the latest modern dentistry practices.
"I am dedicated to continuing my education so I can provide you with the most modern, up-to-date, and cutting-edge dentistry," Bell says.
Joshi said he also appreciates the relationships he can develop with his patients.
"My patient philosophy has always been to listen and understand my patients' needs in order to cater to their unique situations," Joshi says. "I want to be your family dentist for life."
The dentistry office opened at 15834 Shawnee Mission Parkway in July in the space formerly occupied by TGI Friday's restaurant. Other employees at Shawnee Modern Dentistry include two dental assistants, two dental hygienists, a benefits assistant and Lenz. The office saw 44 new patients in July and were projected to see 69 new patients in August.
The office's parent company, Pacific Dental Services, owns the entire pad site, also occupied by a Mattress Firm location. Pacific Dental Services, headquartered in Irvine, Calif., has opened nine other sister location around the Kansas City area in Overland Park, Kansas City, Kan.; Blue Springs, Mo.; and more while planning to open two more by the end of the year.
Lenz said that although the office is corporately owned, the Shawnee office and others feel locally owned because of their dedication to their communities.
For example, two weeks ago, Shawnee Modern Dentistry held a "We Serve Day" and offered free dentistry to needy patients. In one day, the office provided $20,000 worth of free dentistry to patients.
"That's one of the biggest things we emphasize is giving back," Lenz said.
For more information about Shawnee Modern Dentistry, visit www.shawneemoderndentistry.com
More like this story