Smallcakes Shawnee celebrates one year of business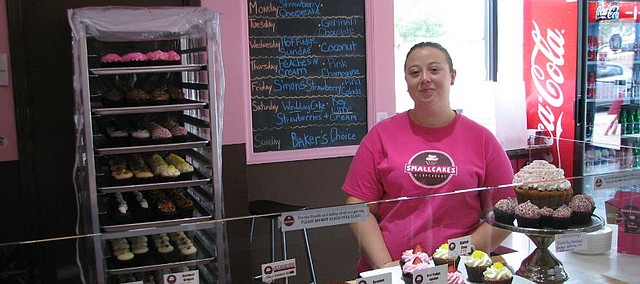 Driving on Shawnee Mission Parkway, a bright pink sign on the south side of the road may have caught your attention over the past year: Smallcakes, a Cupcakery.
For the past 12 months, the cupcake business has been churning out all types of specialty cupcakes, and it is ready to celebrate its one year anniversary after experiencing success in Shawnee.
Owner Allyson Ellis, who also owns Smallcakes shops in Kansas City, Mo., St. Joseph, Mo., and Olathe with her husband Curtis, said the Shawnee store had an intentionally quiet opening but has been building business ever since. Ellis said business has grown over the last couple of months from simple word-of-mouth marketing and the business's Shawnee Mission Parkway location.
"(Shawnee) is a really great community and there really wasn't anything like us here," Ellis said. "It's a market that's growing and we're excited to be here."
To celebrate, Smallcakes is throwing a one-year anniversary party from 10 a.m. to 4 p.m. Sept. 12 that will feature a face painter, cupcake decorating contest, balloon art and various cupcake specials.
While the Shawnee business is young, the business itself caters to all ages.
Whether a parent is throwing a birthday party for a child, or a bride-to-be is looking for a pink champagne cupcake, Smallcakes prides itself on offering everything. Some other special flavors include more adult ones like Maple Bacon, Kentucky Bourbon as well as classic takes on chocolate, lemon and strawberry.
"Cupcakes really are for all ages," Ellis said.
Ellis said the business has about 200 recipes and bakes its 12 signature flavors every day along with three special flavors. Every morning, the bakers at Smallcakes start preparing the day's orders and flavors in the shop's in-house bakery.
The business opened last September under another owner in the space next to Little Monkey Business at 12221 Shawnee Mission Parkway. Ellis then purchased the business in December. Ellis had already owned the Olathe location and was looking to buy more when the previous owner offered to sell.
Ellis said she is confident that the cupcake trend in this country will continue because of the customization and variations available. She said cupcakes continue to be popular at weddings because people who don't like a certain flavor can have a variety of options. She said it's also a great sweet treat that a person can have without having to buy an entire cake.
"It really is a good way to get a treat that isn't that expensive," Ellis said.