Columnist: In memorializing 9/11, Sept. 10 also a day to remember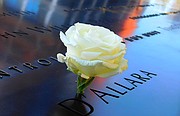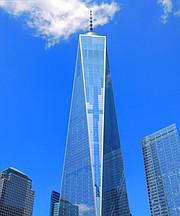 Editor's note: Marty Augustine is a Shawnee writer and photographer with a background in public safety. Augustine offers presentations related to 9/11, disaster preparedness and personal safety for churches, schools and community groups. Visit MartyAugustine.com for more information.
On Nov. 3, 2014, One World Trade Center, a skyscraper in New York City, opened to the public for the first time. Rising 1,776 feet above the city, the building also known as the "Freedom Tower" is currently the tallest skyscraper in the Western Hemisphere, and the fourth-tallest in the world. While most people were unaware of this opening, it was a very important day in the history of our nation.
During the early morning hours of Sept. 11, 2001, it was "just another day" in America. Some people slept in, parents left for work and children departed for school. At 8:46 a.m., all of our lives were changed forever when American Airlines flight 11, an aircraft hijacked by terrorists flew into the upper floors of the north tower at the World Trade Center in New York City. On this morning, America was under attack.
In the following hours, three other terrorist controlled aircraft crashed into the World Trade Center south tower, the Pentagon in Washington D.C. and a field in Somerset County, Pennsylvania. At 9:59 a.m. the south tower of the World Trade Center collapsed, followed by the north tower a short time later.
On a "normal" morning there were tens of thousands of visitors and employees at the World Trade Center complex. These people came from a variety of backgrounds including hundreds from foreign nations. While thousands were safely evacuated from the buildings, nearly 3,000 people lost their lives. 9/11 wasn't just an attack on America. It was an attack on the entire world.
What started out as a "normal" day turned into one which will be forever remembered by our generation, just as the attack on Pearl Harbor or the death of President John F. Kennedy were for other generations. For those who lived through the terror of that morning, the memory of where you were when the news broke is something that will always be ingrained in our minds.
The world stopped at 8:46 a.m. on Sept. 11, 2001. Our nation's sense of security was lost, but our resiliency and national pride were tested more than ever in the months and years following the attacks of 9/11. It took nearly nine months to remove the debris from the collapsed buildings in New York City, but it would take 13 more years before America could feel a sense of closure. This closure came when the "Freedom Tower" opened its doors. Our nation was knocked down but we picked ourselves up and carried on. The attacks that were meant to destroy our beliefs and values made us stronger and brought us closer as a nation.
This year marks the 14th anniversary of the 9/11 attacks. After 14 years, many things in our society have changed, but most things are still the same. Everyone remembers what they were doing and how they felt on the morning of Sept. 11, but not many can recall Sept. 10 because it was an uneventful day.
Sept. 10, 2001 was the last "normal" day for America. We were living our lives, just as we are now. There were terrorists and wars in other parts of the world, but we were safe here at home. The Department of Homeland Security didn't yet exist. There were no body scanners at the airport, our phones weren't tapped and we could walk down the streets of a city without being watched by surveillance cameras on every corner. Our nation faced issues of race, religion, finances and politics on Sept. 10, 2001, just as we do now.
While 9/11 was a tragic moment in history, it also defined us as a nation. When the towers fell, the rescue and recovery was a matter of people helping people. The social problems of Sept. 10 were momentarily put aside. There was no black, white, Asian or Hispanic. It didn't matter if you were Christian, Jewish or an Atheist. It didn't matter if you were straight or gay. We came together to help each other not just as a nation, but as communities. The attacks of 9/11 brought us together for at least one day in our history. The "Freedom Tower" is a symbol showing how we as Americans are capable of overcoming our differences and hardships to carry on. Everyone had differing opinions, backgrounds and motivations, but we moved forward together.
As we reflect on the past 14 years, it's important to honor our public safety heroes and pay respects to the victims who lost their lives, but it's also important for us to look at our own lives. Think back to Sept. 10 and remember the lives of those who would be forever changed on the following morning. The lesson learned from those days 14 years ago is that tomorrow is never a promise.
Cherish every moment you have with your family and friends. Treat others the way you'd like to be treated and live your life to its fullest. Enjoy what you have today because when you wake up tomorrow it could be the next 9/11.
More like this story