Power restored to more than 1,300
KCP

&L customers in Shawnee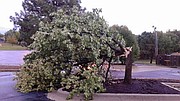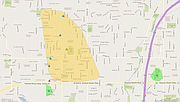 Kansas City Power & Light crews have restored power to more than 1,300 customers following a line of storms Thursday morning.
All but 80 KCP&L customers in Shawnee remain without power at 8 a.m.
KCP&L's website showed 1,364 customers were without power in the peak of the outages. Most of those outages were in the same area where a Shawnee Police officer reported an electrical transformer had been struck by lightning. The officer reported the lightning strike just before 5:30 a.m. near the intersection of Johnson Drive and Quivira Road.
More than 5,200 KCP&L customers were without power across Johnson County. Most of those outages were in Overland Park along Interstate 435 just east of US-69 Highway.
The National Weather Service issued a severe thunderstorm warning due to the potential for gusty winds and small hail. There were a few reports of trees with significant damage from winds and downed tree branches blocking roads. Police were able to clear the roads that were blocked by the downed trees.
By 6 a.m. the National Weather Service had allowed all of the storm warnings to expire as the storm weakened.