No. 1 Mill Valley handles Blue Valley Northwest
The Mill Valley football team kept its early-season momentum going on Friday evening, defeating Blue Valley Northwest 40-6 in its home opener.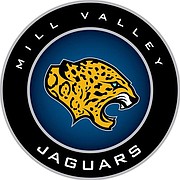 The No. 1 state-ranked Jaguars (2-0) racked up 562 yards of total offense and limited BVNW to just 154. Mill Valley jumped out to a 21-0 lead in the first quarter and never looked back on its way to a convincing victory.
Quarterback Logan Koch led the way for the Jaguars, finishing 14-for-19 for 231 yards, four touchdowns and one interception. He also added 113 yards on the ground. Tristan Milne led Mill Valley with 129 rushing yards and a 26-yard touchdown on 23 carries.
Wide receiver Luke Krull was a force in the passing game, catching nine passes for 135 yards and three touchdowns (20, 27 and 26 yards). Christian Jegen caught two passes for 52 yards and a 21-yard touchdown.
The Jaguars will be back in action at 7 p.m. next Friday as they play host to Derby (2-0) for Homecoming.
---
Jon Poorman is the sports editor at The Dispatch. Follow him on Twitter at @JonPoorman for all of the latest community sports news.
More like this story