Mill Valley cross country teams shine at Paola
The Mill Valley High School cross country program blew the competition out of the water at the Paola Invitational on Saturday, as both the boys and girls teams took home convincing victories.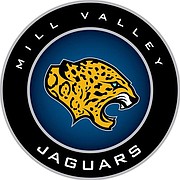 The boys took first place out of four teams with a score of 22 points. Blue Valley (39), Pittsburg (90) and Paola (101) rounded out the field. The girls, meanwhile, took first place out of three teams with a score of 22 points. Blue Valley (35) and Paola (65) rounded out the field.
All seven Mill Valley boys finished in the top 10. Seniors Derek Meeks (second place, 16:41.80) and Garret Fields (third place, 17:20.05), and sophomore Justin Grega (fourth place, 17:27.05) led the way for the Jaguars. Junior Jakob Coacher (sixth place, 17:33.02), sophomore Gavin Overbeck (seventh place, 17:33.92), sophomore Tyler Coad (eighth place, 17:36.42) and junior Max Jones (17:39.64) rounded out Mill Valley's team.
Blue Valley senior Joey Wiederholt won the invitational with a time of 16:27.17. Thirty-nine runners competed in the boys varsity event.
The Mill Valley girls has five of its six competing runners in the top nine. The Lady Jaguars were led by senior Ellie Wilson, who took first with a time of 20:30.45. Twenty-eight runners competed in the girls varsity race. Senior Amber Akin (fifth place, 20:55.49), sophomore Britton Nelson (seventh place, 21:11.52), junior Anna Clayborn (eighth place, 21:23.49), freshman Delaney Kemp (ninth place, 21:23.95) and sophomore Christine Lust (21st place, 24:39.74) rounded out the Lady Jaguars' competitors.
Both teams will be back in action at 8 a.m. on Saturday as they compete in the Bonner Springs Invitational at Wyandotte County Park.
---
Jon Poorman is the sports editor at The Dispatch. Follow him on Twitter at @JonPoorman for all of the latest community sports news.