Mill Valley routs Bonner Springs in
KVL

matchup
Bonner Springs — Mill Valley High controlled the game from the opening kick off in its 9-0 victory against Bonner Springs High on Monday night.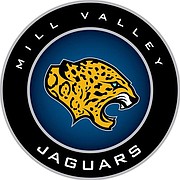 The Jaguars scored within the first five minutes on a goal by Adam Grube. It was all the Jaguars would need, but they poured it on.
The Jaguars went through a lull for 15 minutes before three goals were scored in a three and a half minute span. Jansen McCabe and Dalton Sieperda scored in the run of play, while Christian Howe put his in on a penalty kick.
It seemed as if the Jaguars started to press themselves into scoring as many goals as they could, but they started taking poor shots.
"They gave us open space, but they'd be right there to block it every time," said Colby Sirivangxay, who scored two goals in the second half. "I think we were too ambitious, we took some shots we shouldn't have."
Mill Valley coach Arlan Vomhof said he and his staff started tallying how many times his team took a shot and it went into somebody.
"People started getting kind of greedy," Vomhof said. "We talked about it at halftime that we need to possess and move the ball and be patient."
"The more we attacked, the more they closed in as any team would do. If that happens, our guys need to learn to bring it back. Being on a football field, bring it out to the 40 (yard line) and work the ball."
Vomhof said the Jaguars did a better job of it in the second half.
Bonner Springs had two prime chances in the second half, but MVHS goalkeeper Aidan Veal was able to make both stops.
BSHS' Carlos Gonzales-Gustin was streaking down the right side and hit a shot from 10 yards out that Veal punched away. Less than three minutes later, a cross came into Kaleb Hightower. He was able to get a poke on it, but Veal was able to make a reaction save pinning the ball between his hand and the ground.
Braves coach Mike Moulin thought his team defended well despite what the scoreboard said at the end.
The Braves have focused on defense the last couple of practices after an 11-1 loss to Tonganoxie High because he wants his team to be more physical.
"At the beginning of the game we talked about marking man-to-man," Moulin said. "We didn't do a lot of that, but I think we did a better job of it in the second half."
He said he has only four players that have any varsity experience. He thinks as the season goes, the team will gel a better.
Both teams are back in action on Tuesday. Bonner Springs hosts Shawnee Mission North High at 6 p.m., while MVHS travels to Gardner Edgerton High for a 6:30 p.m., kickoff.
More like this story