Lenexa woman arrested following armed robbery outside Shawnee apartments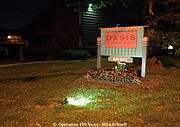 A Lenexa woman has been arrested on a felony charge of aggravated robbery following a Sunday night armed robbery outside of the Oasis Court Apartments. Police are still looking for two other suspects.
Officers were dispatched to an address in the 6800 block of Nieman Road just after 9:40 p.m. to contact the victim of the robbery.
Sergeant Tom Lynch says, "One victim, who lives in the Oasis Court Apartments, said he and a friend returned home from a party at approximately 7:20 p.m."
"As they pulled into a parking space a vehicle parked behind them. A white male and a black male, both armed with handguns, got out of the vehicle and demanded money from the victims," Sgt. Lynch said. "The reporting party/victim recognized the female driver of the suspect vehicle."
Lenexa Police located the female suspect at her home in Lenexa, where she was taken into custody just before 1 a.m.
Booking logs show the 24-year-old woman was booked into the Johnson County Adult Detention Center in Olathe and is being held on a felony charge of aggravated robbery.
As the woman has not been formally charged, Operation 100 News is not releasing her name.
"The two male suspects are not in custody," Sgt Lynch said.
Police have not released descriptions of the two men they are looking for.
Check back with this report for updates.