Prosecutors seeking additional penalty in She's A Pistol plea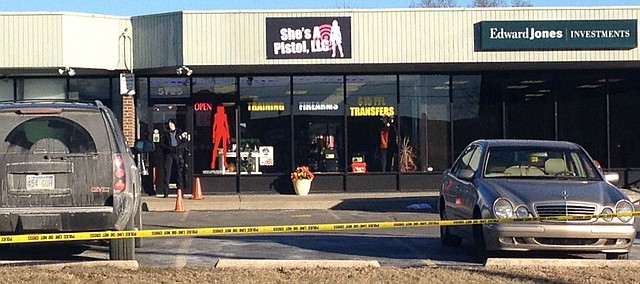 The plea and sentencing for one of the men accused of killing Jon Bieker at She's A Pistol in January continues to be delayed as attorneys on both sides of the case prepare to limit any possible chance of an appeal or further litigation.
DeAnthony Wiley, 20, is expected to plead guilty to first-degree felony murder and was scheduled to make the plea on Friday afternoon. However, a motion filed by an Assistant District Attorney seeking more than the maximum penalty for the conviction requires a mediation hearing, which has been set for late November.
A motion for upward durational departure, a request for a sentence to be longer than what is called for by sentencing guidelines, was filed earlier this month. Wiley faces a life sentence for first-degree felony murder with a mandatory minimum of 25 years before parole, under the state's sentencing guidelines. The maximum amount of additional sentence time allowed is twice the original sentence. The motion did not specify what amount of additional time prosecutors are seeking.
The state says it requesting a longer sentence because Wiley presents a danger to the community and "played a major role in the crime as the organizer, leader, recruiter, manager or supervisor," according to the motion.
Wiley was, according to police and court testimony, the first of four suspects to enter She's A Pistol on Jan. 9, and prosecutors say he was pretending to buy a gun from the store's co-owner, Becky Bieker, when violence erupted. Jon Bieker was shot several times as he responded to the violence in an effort to save his wife. Three of the suspects, including Wiley, were also shot.
Londro Patterson, 20; Hakeem Malik, 18; and Nicquan Midyett, 19, all face identical charges of felony muder, two counts of aggravated robbery and aggravated battery. Their cases will continue in December with further preliminary motion hearings.
Wiley's defense attorney agreed to a mediation hearing with the state over the additional sentence request. In a responding motion, defense attorney Kat Zigtema said, "A joint agreed-upon resolution, plea and sentencing recommendation would bring a degree of certainty to the potential sentence the defendant faces and the finality of the matter by avoiding the need for contested litigation which could/would result in multiple appeals and post conviction actions."