Man arrested after rolling pickup on Quivira Road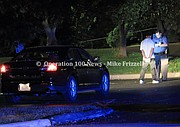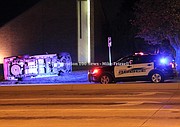 Shawnee Police arrested a man after he rolled his pickup truck on Quivira Road early Thursday morning.
Officers were called to the intersection of Shawnee Mission Parkway and Quivira Road around 1:15 a.m. Another driver called police and reported a truck on its side, just south of the intersection. Radio traffic indicated that the driver of the crashed truck was out of the truck and walking around nearby.
Arriving officers found a Chevrolet Colorado on its side in the grass in front of Hope Lutheran Church, on the southwest corner of the intersection.
After officers administered field sobriety tests, the driver was put in handcuffs and then placed in the back of a waiting patrol vehicle.
The southbound lanes of Quivira Road were blocked for a short time and reopened before 2:30 a.m.
Police continue to investigate the crash. No injuries were reported.
As of 4:30 a.m. the man has not been booked into the Johnson County Adult Detention Center.
More like this story