No. 1 Milll Valley routs
KC

Southwest
The Mill Valley High School football team easily defeated Kansas City Southwest at home on Friday evening, cruising to a 42-6 victory to improve to 4-0 this season.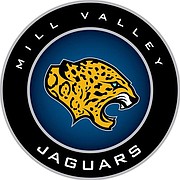 The Jaguars were led by quarterback Logan Koch, who accounted for three touchdowns in the first half. He finished with 79 yards on the ground on two carries, including a 24-yard touchdown in the opening period.
Christian Jegen caught a 16-yard touchdown pass from Koch in the first quarter, and Tristan Milne added a one-yard touchdown run as the Jaguars jumped out to a 21-0 lead. Koch's second carry went for a 55-yard score, and Ike Valencia capped the first-half with a one-yard touchdown.
Brody Flaming scored the only points for Mill Valley in the second half, reaching the end zone on a five-yard run. Flaming finished with 132 yards on just 10 carries.
The Jaguars will be back in action at 7 p.m. next Friday as they play host to Staley.
---
Jon Poorman is the sports editor at The Dispatch. Follow him on Twitter at @JonPoorman for all of the latest community sports news.