Husband, wife make tradition of competing against each other at Shawnee Great Grillers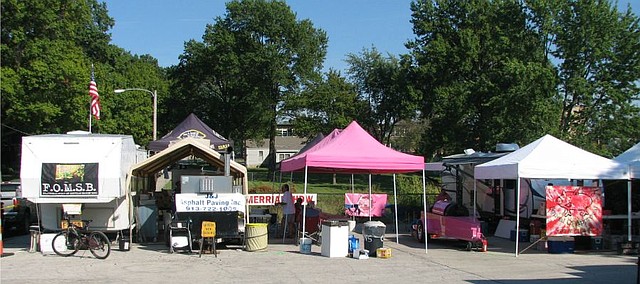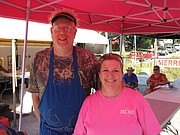 Betsy and John Masters stood together in a camper at the Great Griller's State Championship on Friday, trying to tally each other's ribbons and awards.
When Betsy, who has been married to John for eight years, says that they've both won for their ribs at the Shawnee competition, John clarifies that his team, F.O.M.S.B., has never ribboned in ribs. When Betsy realizes this, she give a quick laugh and sticks her tongue out at John, smiling as she does it.
"It's all in good fun," Betsy Masters said. "Really, you're happy if the other person gets a ribbon, we're just hoping that one of us gets some good calls."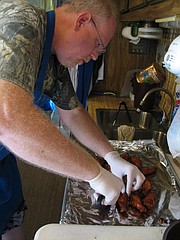 The married couple have been barbecuing for more than 20 years and met at the Great Lenexa BBQ Battle 10 years ago. Since then, the two have entered numerous competitions. But it is a rarity when these two get together to compete on the same team.
Betsy's team, Squeal of Approval, and John's team, which stands for Fraternal Order of Merriam Smoking Boys, have separate but intertwined legacies to maintain.
John Masters works with his uncle Raymond Masters and other family and friends, as they have been doing for years. At the Shawnee Great Grillers competition, F.O.M.S.B. has been stationed for years either next to or across from Squeal of Approval.
"If I forget something, they're going to have it," John Masters said. "And that goes for them too."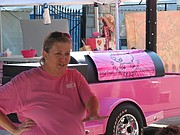 The two teams create a joint cooking area, but the teams are easily discernible. Squeal of Approval is hard to miss with its large pink smoker with its team logo on it under a large pink tent.
"He can come help me unload all of my stuff, then I can kick him out," Betsy Masters laughed.
F.O.M.S.B has two more discrete smokers, one of which was hand built by Ray Masters and the family strictly for competition.
On Friday afternoon, as they both began to prepare their entries for each of the competition's categories, the sense of the friendly rivalry could easily be seen. The two teams sat and talked, drank and tasted each other's recipes. There are some subtle differences in the preparation of the ribs, brisket and pork between the teams. Squeal of a Approval uses a more traditional smoking method that requires less time, while F.O.M.S.B. uses a larger smoker that has a rotisserie feature. F.O.M.S.B. also uses its own sauce called Midwest Mex while Squeal of Approval uses Smokin' Guns rub and sauce.
2015 Great Grillers Winners
Top 3 in:
Overall Ranking:
Brew N Bar-B-Que
Funny Farm BBQ
Jaester BBQ
Brisket:
Jaestar BBQ
Brew N Bar-B-Que
Pork Pullers
Pork Ribs:
913 BBQ
Funny Farm BBQ
Skunk River BBQ
Pork:
Overland Pork BBQ
Midnight Stokers BBQ
O'Danny Boy BBQ
Sausage:
T's Smokin Pit
Poker Smokers
Dead Last BBQ
Chicken:
Dead Last BBQ
Brew N Bar-B-Que
KCQ
Side Dish:
Hawg Heaven
Pig Newton
Blowin' Smoke
People's Choice:
Rub Me Tender Rub Me Sweet
Sweet Ash BBQ
Why Not Smoke
BBQ Chicken Wings:
3 Guys with Wood
Short Horns BBQ
Pork 'n Mindy
Open Wings:
KC Rib Doctor
T's Smokin Pit
Overland Pork BBQ
Hot Wings:
Uncle D's Barbeque
3 Guys with Wood
KCQ
Overall Wings:
3 Guys with Wood
Uncle D's Barbeque
When Pigs Fly
Each team still has a couple secrets they keep from each other. And sometimes those secrets are stolen. In each instance, though, the teams are okay with that.
On Friday, Betsy caught her husband packing a microwaved moist towel into the bag that was taken to judges. The towel kept the food warm as it was transported to the judges table.
"Oh, I'm going to start doing that now," Betsy Masters said.
The couple competes annually from March through October. Betsy Masters also helps organize the Kids Q at the American Royal, which will be held this weekend at the Harry S. Truman Sports Complex in Kansas City, Mo.
As the years have passed and the countless competitions have come and gone, the Masters family has come together around barbecue. The Masters' children grew up going to barbecue competitions and served as unofficial judges before the judges got their first tastes. John Masters said that they were usually pretty accurate in telling which recipe needed what and what the judges were preferring on a given competition day.
"It really is a family affair," John Masters said.