Two Teacher of the Year finalists have Shawnee connection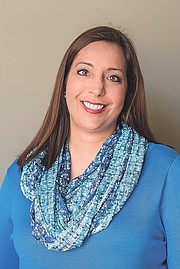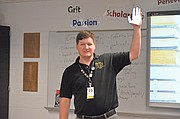 In the 2016 Kansas Teacher of the Year program, the city of Shawnee is well represented.
Out of eight total finalists for the title, two have a Shawnee connection: one lives in the city and one teaches there.
Anna Sahadeo, who teaches at Riverview Elementary, a Shawnee-based school in the De Soto district, and Kristoffer Barikmo, who lives in Shawnee and teaches at Blue Valley High School in Overland Park, are the two region 3 finalists for Teacher of the Year. Each year, out of a number of candidates selected by Kansas school districts, one primary and one secondary finalist is selected from the state's four regions or U.S. congressional districts. Region 3 covers the third U.S. congressional district of Wyandotte and Johnson counties as well as parts of Douglas County.
"There's something in the water here," Barikmo thought at the Kansas Teacher of the Year Region 3 Banquet, during which both he and Sahadeo were announced as regional finalists.
Both Sahadeo and Barikmo come from a family of educators. Sahadeo, who has been an elementary school teacher for 13 years, said both of her parents were teachers, with her dad ending up as a math professor at the University of Wisconsin after being the first one in his family to go to college himself.
"He came from a third-world country," she said of her father, who was born in the former British Guiana.
Sahadeo said she always knew she wanted to be a teacher, despite one temporary detour.

"I wanted to be a doctor briefly, but blood and needles didn't go well with me," she said with a laugh.
So at Kansas University, she followed in her parents' footsteps, majoring in education.
"I was a high school English major for like two seconds," she said. "Then I switched to elementary education. I knew little kids were for me."
Sahadeo formerly taught in the Liberty, Mo., school district, but moved to the De Soto school district nine years ago. She has taught at Prairie Ridge and Clear Creek elementary schools, and now teaches second grade at Riverview.
"I truly, after 13 years, I have not gotten tired of it," she said of teaching. "Every day, every single moment is different. You just never know what these kids are going to say to you and bring to you, and that's what I love."
Sahadeo said she was pretty overwhelmed when she heard her name being called at the banquet as a finalist, "but I don't think as teachers we do it for accolades or anything like that."
"I'm just really proud, especially since I come from a family of teachers, it means a lot to be able to carry on the tradition, just for me personally," Sahadeo said. "But also, coming from such a strong school district, to represent the De Soto school district as well."
"I could not do it without the other girls I work with," Sahadeo added, giving credit to her fellow teachers at Riverview, all of whom are currently women. "We all work so hard."
Barikmo also gave credit to his fellow teachers and the Blue Valley school district. He is in his fourth year at Blue Valley High School, teaching government and economics, and his 14th year as a teacher.
"It's been a humbling set of recognitions all the way back to the beginning when I was nominated by my peers for our building," he said. "I've become the teacher I am because of the colleagues that I work with and the administrators that I work with. This is as much an honor for our colleagues and our team at Blue Valley as much as it is for me personally."
Though Barikmo had aunts and uncles in the education field, he didn't start college in St. Louis originally prepared to follow down that same road.
"I went into college thinking that I was going to be a pediatrician," he recalled. "Then I hit my first chemistry class and realized I don't know if this is going to be my path."
His future career became more clear to him during his sophomore year when he began volunteering at an after-school club for kids.
"We can make really meaningful connections with kids and that brightens their day and it opens up doors of possibility for them," he said. "And that was that moment when I realized I want to do this for the rest of my life."
Barikmo said one of his favorite aspects of teaching is helping his students see how what they're learning in the classroom can be applied in the real world through such means as Facebook and Twitter.
"Here's a way that you can engage in a process as an active citizen," he said of social media. "To me, that's where education has to take us, is toward understanding the power of media and how we can integrate (that into the classroom). … That's what gets me the most excited about working with young people."
Barikmo sees education as a two-way street between him and his students.
"I think one of the parts that is most important to me is to help students realize that I might be able to teach them a whole lot, but they can also teach me a whole lot at the same time," he said. "I think the power of teaching rests in the fact that teachers can be co-learners with students. … When teachers and students can be co-learners in the enterprise of education, there's much more buy-in in the classroom and there's much more life in the classroom, because I can guarantee you students can teach me more than I know."
The 2016 Teacher of the Year will be announced in November.