Shawnee bids farewell to emergency manager, former police officer
Kegin leaves for position with county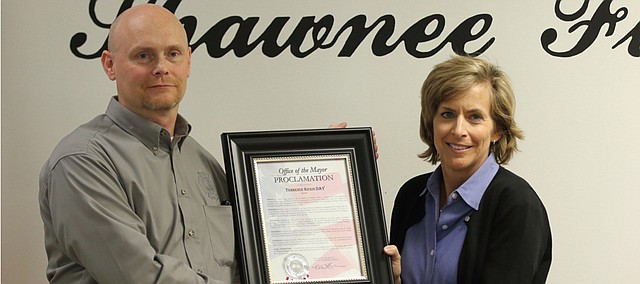 Terry Kegin remembers his first day on the job at the Shawnee Police Department — it was March 14, 1994.
It helps that from his first day, Kegin, currently the city's emergency manager, was making news: He was featured in the local newspaper for bringing the police department staff to 35 full-time officers.
"There's a picture of me standing right outside those doors," he remarked during a farewell gathering Friday, pointing to the doors of the former Police Department, which now serves in part as training space for the Fire Department and the Community Emergency Response Team that Kegin helped expand in the past three years.
It wouldn't be Kegin's first time making news during his 23 total years in Shawnee, which he is now leaving to become the assistant director of operations for Johnson County Emergency Management.
Kegin's roots in Shawnee go back further than his employment. He started as a volunteer with the Shawnee Fire Department's rescue team in 1989, while also working for the Kansas City, Kansas Police Department and then the Johnson County Sheriff's Office.
After joining the Shawnee Police Department, Kegin eventually became a crime prevention specialist. He decided in 2008 to start focusing on emergency management and became state certified in the field.
While he officially retired from the police department in 2010, in 2014, Kegin graduated from the Federal Emergency Management Agency's (FEMA) National Emergency Management Basic Academy at the Emergency Management Institute in Maryland.
He is just the fourth person in Kansas to complete the course.
He became Shawnee's emergency manager within the fire department. Kegin helped compile the city's first Local Emergency Operation Plan, which Fire Chief John Mattox called a huge accomplishment, and Kegin also brought the city into compliance with most of FEMA's requirements for municipalities.
Kegin was tasked with management of the storm sirens in Shawnee, so he evaluated all of them and created a maintenance and replacement program for the sirens.
"Within the next three to five years, all of our sirens should be modern," Mattox said. "So for those who don't know, right now, the first Wednesday of every month we have to call somebody who lives next door to a siren to see if it worked."
In the new system, the county will be able to monitor the siren remotely.
Kegin may be best known for taking over the city's CERT program, which was founded in 2002, but held together with "bailing wire and tape," Mattox said.
"Terry came in and organized that, made it a very, very professional program," he said of the program which now has more than 40 community volunteer members.
One of those members, Ray Erlichman, recalled when the first CERT class had its first full exercise in emergency response. They were evaluated by FEMA officials who thought the team had been together for years, not months.
"She could not believe that the team, as new as we were, were functioning that well," he said of one of the FEMA officials. "The only way a team could be put together and function in that manner, that early in its life cycle, is because of leadership and instruction, and that had to come from Terry."
Kegin also is a member of Kansas Incident Management Team. He has been activated twice, and though in those cases he says he basically served as a "taxi driver," helping transport participants back to their home towns, he also was the operations chief for a team exercise last year in Salina.
"So Shawnee is out there, Shawnee is known because of Terry," Mattox said.
Kegin says he is excited for the opportunity to work for the county because he will be in charge of the county's Emergency Operations Center.
"It's a huge EOC, a big department, so there's lot of things to be responsible for," he said.
The thing he might miss most is working with Shawnee's CERT team, since that doesn't exist at the county level, only at city level.
"That's one thing I don't look forward to, but I'll still be a volunteer," he said.
Kegin also will remain in Shawnee thanks to his role in the statue dedicated to fallen firefighters and police officers located in front of the John B. Glaser Fire Station at 65th and Quivira: He served as the model for the police officer.
More like this story