Rotary Club's Taste of Shawnee event looks to improve on inaugural year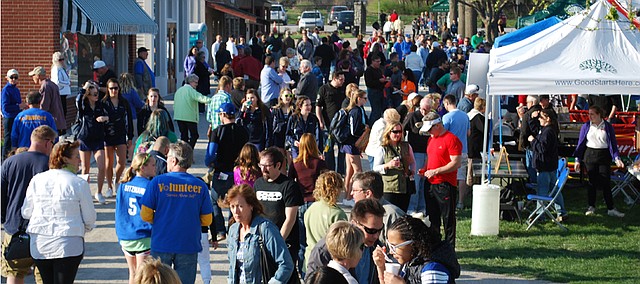 For years, the Rotary Club of Shawnee tried to create an annual event that could raise a significant amount of funds for charitable causes.
So when last year's inaugural Taste of Shawnee event, which gave visitors a chance to sample foods from Shawnee restaurants, raised more than $30,000, despite taking place the same weekend as the Easter holiday, the club knew it had something good.
"This is big for us," said Linda Leeper, one of three co-chairs for this year's event. "We've tried several years with another event and could never get it above that first-time level, so that's what made it so exciting."
And the club hopes this year's event, set 3 to 6 p.m. Saturday at Shawnee Town, will be even bigger, with more vendors and an additional beneficiary: Sunflower House, a child abuse prevention center that serves Johnson and Wyandotte counties.
Leeper and Joni Pflumm, who are chairing this event along with Kinsey Honeyman, say part of what made last year's event such a success was it became much more than a club event — vendors and sponsors joined together to make it a community event.
"The major thing was the fact that we had some great sponsors and great vendors," Pflumm said. "Being the first year, it hard to determining how many vendors we were going to have with it on Easter weekend, if it was going to rain, not going to rain. The stars had to align just right, and they did."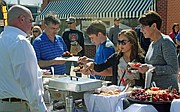 Overland Park Regional Medical Center ER of Shawnee was a big help as a sponsor of the first event, and some of the funds raised at the event support the Circle of Hope NICU Foundation at OPR.
"They were kind enough to help and saw it as an opportunity, and they are coming back this year again," Leeper said. "It all worked together."
The event also supports the Rotary Club of Shawnee Foundation, which provides grants to area charities.
In addition to sponsorship donations, funds are raised through a $5 admission pass, which provide five "taste" tickets that allow visitors to sample offerings at one vendor each. Additional tickets can be purchased for $1 apiece.
In all, last year's event raised $56,389, because with the Bill and Melinda Gates Foundation making 2:1 grants for donations to Polio Plus, $28,170 went to the Rotary-founded charity that works to eradicate Polio around the world.
The club hopes to raise even more this year and anticipates bringing in about 2,000 visitors, compared to an estimated 1,500 last year. The inaugural event featured 20 vendors, and this year's event already has booked 25.
Terry Langton, owner of Smoothie King in Shawnee, called last year's event "awesome." "There were way more people there than we anticipated, and we're looking forward to it again this year," he said. "It was very fun environment … We loved it."
Mark Hembrey, general manager of the Hereford House in Shawnee, said the restaurant is always looking to support charitable organizations, but he loved the idea of the event.
"I think it's a nice event where you can showcase so many different restaurants and menus in one spot," he said. "From our standpoint it's great because we get a captive audience of 1,300 people in one day. The chef likes to bring items on the menu, but it also gives them an outlet to be a little creative, too."
Hembrey said he was happy that he saw a lot of his regular customers at the event.
"About 75 percent of the people I knew, so it was good to get out and shake hands and see people I see on a day to day basis and remind them of what we're capable of doing," he said.
Pflumm said from a visitor's perspective, the event helped her discover new dining options.
"I've come across some restaurants I've never been to before, and it's a great opportunity for them to show what they have to offer," she said.
It's not all about the food — organizers make sure the event is fun for children, as well, with a performance from "Rockin' Rob" and activities from Wonderscope Children's Museum.
To learn more about this year's event, visit tasteofshawne.wix.com/2016.
More like this story