Sikh holiday celebration, parade to affect Shawnee traffic Saturday
On Saturday, members of the local Sikh community will be holding their annual celebration at their place of worship, 6834 Pflumm Road, which will include a parade using city streets.
Photo Gallery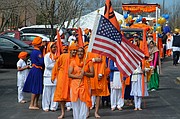 Sikhs celebrate in Shawnee
The annual Vaisakhi Festival at the Shawnee Sikh temple Saturday featured a parade, food, music and children's activities.
The parade will be held on Saturday from 10:30 a.m. - 12:30 p.m., which will affect traffic as it travels from the Sikh temple north on Pflumm, then east on 67th Street, then south on Quivira, returning west on 71st Street before returning to the Sikh temple by heading north on Pflumm.
City staff have met with the event organizers in regards to citizens concerns of on-street parking as well as the noise associated with this event. Parade organizers have agreed to provide off-site parking with a shuttle service and to take steps to control the noise level during the event.
The city will place temporary "No Parking" signs in surrounding neighborhoods.
Parade organizers are reimbursing the city for all costs associated with the event. Find photos of the 2013 parade in the photogallery at left.