SMNW

signees show

FIGHT

as they head their respective ways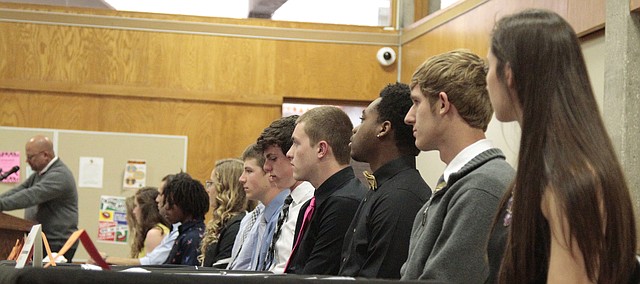 Shawnee Mission Northwest recognized 16 seniors with an all-athlete signing day ceremony Wednesday in the school's cafeteria.
The college signees were able to thank their coaches, teammates, family members and others who have helped them during their playing days at SM Northwest, and were given the opportunity to share a few short stories of the challenges they've faced in their sport and life in general.
Northwest athletic director Angelo Giacalone opened the ceremony by commending the Cougars for the success they have achieved so far in their respective sports, but also reminded them to think of the acronym FIGHT — which he went into further detail to explain — as they go their respective ways.
The acronym, in short, was explained by Giacalone as follows:
F — Fear none, and respect all.
I — Intelligence.
G — Grit.
H — Honor.
T — Truthfulness.
"To you individuals, keep your FIGHT and do not lose your focus," Giacalone closed in saying before opening the floor for the student-athletes and their coaches to speak.
Dynamic soccer duo Baker bound
The first student-athlete to be introduced was SM Northwest soccer player and sprinter Erica Esch.
The speed the SM Northwest senior has shown on the soccer field led her to try out for track and field this spring as well, and she'll be competing in both sports next school year at Baker University.
"I never expected to be able to do that for college. I didn't know what I expected for my future," Esch said. "It was such an honor that they were like, 'Come to Baker. Come play soccer, and you can also do track.' It made me so happy, and it made me feel like I have a future. When I visited Baker, I loved everything about it."
One of Esch's partners in crime on the pitch will be joining her at Baker in Amelia Hoelting. Hoelting was unable to attend the ceremony due to a state orchestra competition, but Esch can't wait to continue her friendship with her SM Northwest teammate at Baker.
"It is a dream come true," Esch said. "She's been my best friend since like fifth grade. She's basically my sister, and I'm so glad that I'm already going to have a friend going in."
Bower set to swim with sister at Lewis
While Esch and Hoelting's friendship is strong, it's not quite special as what SM Northwest senior swimmer Meaghan Bower has with one of her future teammates at Lewis University.
The SM Northwest swimming standout will reunite with her sister, Jackie Bower, and could not be much more excited about it.
"She is my biggest fan; my biggest role model that I can look up to," said Meaghan of Jackie, who is a sophomore swimmer at Lewis.
Meaghan moved to Kansas from Arizona in the middle of her high school swimming career, but has been thankful for the opportunity to compete for Dave Pfortmiller and the Cougars for the past two seasons.
"The short period of time that I've been on this team, it's made a big impact on my swimming career," Meaghan said. "I've done the best that I can just for myself and also for my family to impress them and to make them feel like my move was something worth their while."
Hulse heads to Haskell to run for family heritage
Bower was not the only Cougar whose college decision spurred heavily on a link to a family member. Northwest distance runner Dakota Hulse will stay rooted with his heritage as he runs cross country and track for Haskell Indian Nations University.
"It's a really big deal to me and my family just being able to go to a place where I'll be with people that share the same heritage as me, share the same pride in where they come from as me," Hulse said. "To be able to run and study next to my teammates is a really big deal to me, too, and compete on the next level."
The long-distance runs that Hulse has ventured on as part of SM Northwest coach Van Rose's training plan have not been easy, but he was humble in recognizing that those before him have embarked on much more difficult journeys — specifically his grandfather, John Ed Mayes.
"His mother walked on the Trail of Tears. He grew up near the reservation, and our family is of Cherokee Adairs," said Hulse of his grandfather, who was on hand for the ceremony. "Adair County is where Tahlequah — the headquarters for the Cherokee nation is. It's our family's county. Our family is built from the ground up, and to be able to do this is the biggest honor I could ask for."
Wichita State waits in the wings for Bird
Rounding out the SM Northwest track and field signees was two-time state runner-up high jumper Abbi Bird. The SM Northwest senior inked her letter of intent to Wichita State.
The Shocker signee has had a variety of obstacles arise in her senior year, and not just the high-jump bar. After former high jump coach Ken Summers retired at the end of last school year, Bird has continued to excel under the direction of Rick Rogers — who is formerly the head track and field coach at SM West.
"To all of the coaches, past and present, you guys have meant the word to me over the past four years," Bird said during her speech. "I look up to all of you, and thank you for not only teaching me all I know about track, but many valuable life lessons as well."
According to SM Northwest assistant coach Justin Stigge, one of Bird's more valuable assets that has primed her to compete at the Division I level is the willingness to listen to her mentors.
"Abbi is one of the most coachable kids that I've ever had the opportunity to work with, and I don't really coach her because I work with the sprinters and she's a high jumper," Stigge said. "But she comes into the room and asks me what I think. She asks how she can contribute to the team, whether it's run events that maybe she is not comfortable doing — like 4x100-meter relays that end up having her bleeding on the entire left side of her body."
Bird's battle scars as a member of the relay team are not the only injuries that she has brushed off recently. The SM Northwest senior had a bout with mononucleosis shortly before the season, but has still been within three inches of her personal-best height of 5-foot, 4 inches in two of the team's first three meets.
Lindenwood-Belleville rugby lands Barnhart
Bird joked in her speech about hoping that her father would not disappointed that she didn't get a football scholarship. Sitting a couple of seats down from Bird at the ceremony were three Cougar football players, but only two of them will sticking with the same sport in college.
While Robert Strain and Brian Morelan will be continuing their respective football careers at Independence Community College and Coffeyville CC, Jason Barnhart will be attending Lindenwood-Belleville to play rugby.
"I've been playing rugby for two years. It is actually a club team called the Cougars, but we're not affiliated with the school," Barnhart said. "We used the name, and that's who I've been playing for for a few years. That's how I got the scholarship was through that."
Although the rules of rugby are different from football, Barnhart noted that a number of the same physical skills are needed for both sports. Barnhart credited the SM Northwest football coaching for getting him ready him to play collegiately, even if it is in a different sport.
"I think Northwest football has prepared me for that by showing me to have a good work ethic," Barnhart said. "Instead of me just having one or two coaches, there have been multiple guys around to push me coming from different areas I guess you could say."
Gerrit Prince was the fourth and final Cougar football player to sign on Wednesday, but he was unable to attend the ceremony. Just like Strain and Morelan, Prince will be competing at the community college level, as he prepares to play at Butler County CC.
Unfinished business for trio of SMNW baseball signees
Cougar baseball player Joe Specht echoed Barnhart's comments on how the coaches at SM Northwest have been instrumental in the success of the student-athletes.
Specht sat between Clayton Hale and Alex Towler during the ceremony, and has a few other teammates who may soon sign to play college baseball. Specht believed a large reason for that is coach Domenic Mussat.
"It definitely shows that coach Mussat is doing something right here," Specht, a Rockhurst University signee, said. "The way he coaches and leads us as a team is incredible."
Mussat led the Cougars to the Class 6A state championship game last year. Northwest fell to Free State in the title game in 2015 at Kansas University's Hoglund Ballpark, and the Cougars are chomping at the bit to make the trek back to Lawrence.
Towler — an Avila University signee — ended his speech by saying the number 36.4, which is the distance from from SM Northwest to Hoglund Ballpark.
"We have some unfinished business to take care of," Towler said. "36.4."
Towler, Specht and Hale — who signed with Allen County Community College — will get a small taste of playing at Hoglund Ballpark again on Friday, as they take the field for the last of their three games in the River City Baseball Festival. The Cougars will play Lee's Summit West at 11:15 a.m. today at Free State, and then take on Blue Springs at 3:45 p.m. at Lawrence High. Northwest will play its final game of the River City Baseball Festival against Jefferson City at 3:45 p.m. Friday at Hoglund Ballpark.
"It's always been our goal since last year, the loss against Free State," Specht said. "I'm excited for this weekend to get an idea of what it feels like it, and we'll be ready for state, hopefully."
Nebraska Wesleyan next step for basketball "brothers"
Towler, Specht and Hale were not the lone members of the SM Northwest baseball team to take part in the all-athlete signing ceremony. First baseman and reliever Dylan Dirks weighed his options of playing baseball or basketball at the next level, and ended up electing the hoops route.
Dirks' decision was made a little easier with a little bit of convincing from basketball teammate Austin Sanders. The Cougar hoops combo went together on a visit to Nebraska Wesleyan University, and Sanders was the first to have his mind set on becoming a member of the Prairie Wolves basketball team.
"I felt like it was a place where I had the opportunity to play, and would get to play with one of my good friends in Austin," Dirks said. "I feel like we can do something special up there."
No one was happier than Sanders that Dirks was joining him at Nebraska Wesleyan. Sanders also received a nudge from a close friend of his at Mill Valley in Kasey Conklin to think about going to Nebraska Wesleyan, and the chain reaction that led to Lincoln was in full swing.
"He (Conklin) was kind of one of the ones who was considering it at first. He told me about it, and I started kind of considering it," Sanders said. "I passed it along to Dylan, and we went on a visit. We really liked the coaching staff, the campus, how it felt."
The friendship between Sanders and Dirks has blossomed on and off the court over the past four years at SM Northwest, and they're looking forward to taking what they've learned from Cougars coach Mike Rose and filling the stat sheet at Nebraska Wesleyan.
"We always kind of push each other," Sanders said. "We're kind of like brothers, so it will be competitive with who gets the best stats in the book next year."
Sitting in between the Nebraska Wesleyan signees was fellow hoopster Ferdinand Handy. Handy is headed for Ottawa University to prolong his basketball career.
Rehor brings Giacalone's opening statement full-circle
The final signee introduced at the ceremony came from the SM Northwest girls basketball program in Danielle Rehor.
Rehor signed with Avila University after helping lead the Cougars to a 22-win season and an appearance in the 6A state championship game — the first in school history.
"It means so much," Rehor said. "All of this hard work that I have put into it and the coaches have put into it has paid off. It's just a great opportunity."
Cougars coach Tyler Stewart expected that Rehor would be a key factor to the team's success with her ability to shoot from the perimeter and drive to the hole, but it was her improvement on the defensive end that made the biggest difference.
"She really turned out to be a special defender — one that became a defensive stopper for us, (and) one that held many of the best players in 6A and the state to single digits with the help of her teammates," Stewart said. "I think she did that and showed a lot of leadership in doing that. She had calm, even demeanor."
Rehor's effort on the defensive end and willingness to take the ball to the bucket also helped bring home the point of Giacalone's FIGHT acronym, and if that didn't, the notion of her and fellow hoops seniors Carson Vielhauer, Brenni Rose and Shelbie McLain did.
Rehor and her three senior teammates have been leaders in the first few months of SM Northwest's partnership with the Pinky Swear Foundation — an organization that gives grants families affected by pediatric cancer to help cover non-medical expenses.
The SM Northwest sports teams adopted Pinky Swear All-Stars Matthew Martin and Gabe Putthoff back in January, and fighting for a special cause was something that meant a lot to Rehor. Since January, SM Northwest has raised $2,200 for Pinky Swear. Vielhauer handed a check for that amount to Pinky Swear area representative Nikol Terrill, and gave her a hug shortly before the signing day ceremony came to a close.
"It's really important because all of the sports have really dedicated awareness to that," Rehor said. "Being able to do it in front of all of the sports was awesome, especially our team."