Shawnee lauds everyday efforts of emergency dispatchers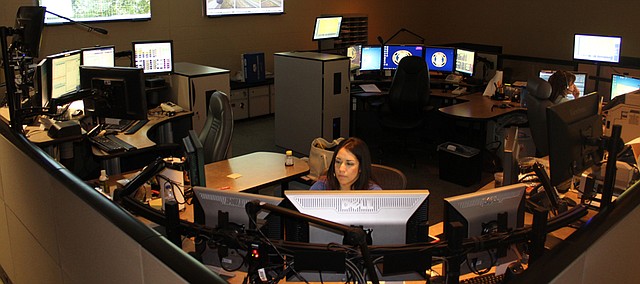 When it comes to important behind-the-scenes workers, emergency dispatchers may take the cake.
"They are the most important people that a person never meets," Major Dan Tennis of the Shawnee Police Department noted.
But the city did its part to recognize them this past week, which was National Public Safety Telecommunicators Week, paying respect to a profession that officials say takes just the right person to fill.
"People think it's a pretty easy job — you just answer phones and send officers," says Sgt. Vincent Walk, communications and technical services supervisor. "In fact, it's a very, very difficult job. … Our HR has said to me multiple times that the dispatch position is one of the most difficult positions to fill. And it's not because nobody wants it; it's because it's hard for people to do, because it involves extreme multi-tasking."
At the Shawnee Police Department, dispatchers balance taking multiple 911 calls, entering information into the Computer Aided Dispatch system, dispatching officers and communicating with officers requesting a search for warrants or other information.
They also handle building security — opening secure doors, including doors for prisoner drop-off or pick-up, and monitoring potential disturbances in the municipal court, booking areas and parking lots surrounding the department. They monitor the location of all officers in the area and police activity nearby, so they are aware should a high-speed car chase, for example, be approaching Shawnee.
The city has 11 dispatch employees in addition to Walk. A minimum of two dispatchers are on duty all day, every day, in eight-hour shifts; at peak hours, there are usually three dispatchers on duty. There are five total dispatch stations — one has a treadmill in front of it to allow dispatchers to exercise while they work.
The police department's current facility, which opened in 2008, has proven to help the dispatch center run efficiently.
"We've been able to keep up with technology," Walk said. "Our equipment and technology is cutting-edge, it's top of the line. The benefits of that are not only from officers' safety, keeping our officers safe, but also the service we provide to the community is top of the line, as well."
Walk said it's nearly impossible to determine whether someone will be a good dispatcher based only on their background or even personality type.
"We can't find the formula — we have people who are really good at computers, they've been in computer work all their life, and they can't do the job," Walk said. "We have people who are fresh out of high school who can do the job. We'll go to national conferences on dispatching, and everybody has the same problem — they can't find that perfect formula for a dispatcher."
"There isn't one combination we can figure out that if we can just hire this type of person, they will always be successful," Tennis added.
Tennis said it comes down to a mix of common sense and the ability to multi-task, think quickly and communicate well.
"Probably one trait that they share is that they are all extremely detail-oriented," Walk said. "They, every one of them, hate making mistakes. Their worst nightmare is getting an officer hurt because of a mistake they made."
Dispatchers are relied on to make a lot of decisions in a very short amount of time, diagnosing the call and dealing with emotional circumstances.
"When people call 911 because they have a problem, they want to feel like there isn't any other problem in the world more important than what they are dealing with," Tennis said. "Which in some respects is totally justified and true. And the dispatchers have to focus on, where are you and what do you need and decide what's going on and how many officers should go."
New dispatchers go through a 20-week training program before they are able to work on their own, learning to make those important decisions.
"We find that some people absolutely aren't able to manage all those things," Tennis said. "They can manage them individually, but when you throw them all together, it's just too much."
Once they find the right person, that person tends to love the job, Tennis said, explaining that the dispatch staff is generally very stable and long-tenured.
However, the city is currently accepting applications for one of its dispatch positions, and Tennis said he encourages anyone who is interested to apply.
"It's a great job, but it takes a very specific person," Tennis said.