SMNW

baseball falls to Lee's Summit West, Blue Springs in River City Festival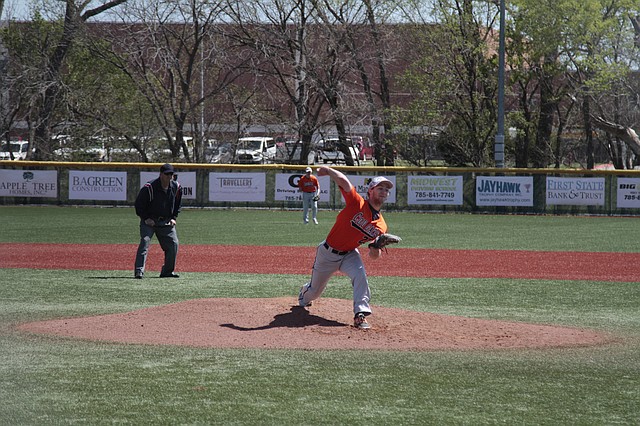 Lawrence — Shawnee Mission Northwest's baseball team made its fair share of solid contact at the plate in its first two games of the River City Festival Thursday in Lawrence, but it did not translate into much run production.
Northwest fell to Lee's Summit West, 7-1, in its first game of the day at Free State, before losing 3-2 to Blue Springs at Lawrence High.
"I think if we keep hitting the ball on the nose like that, it's going to start falling through," SMNW coach Domenic Mussat said following the Cougars' setback to Lee's Summit West. "Their outfield made some great defensive plays to keep some runs off the board there."
The Cougars were only outhit by the Titans, 10-8, but manufacture any runs outside of a first-inning RBI single from Garrett Stephens. Northwest had its chances to come through on a couple of occasions, but the LS West defense was on the top of its game.
Northwest third baseman Dylan Nedved was robbed of extra bases to lead off the second after a diving catch by the Titans' left fielder. The LS West outfield displayed some arm strength, too, as the Titans' right fielder gunned down Joe Todd tagging up from second on a deep fly ball from Nedved in the sixth. It was one of two double plays turned by the Titans.
"They swing the bats pretty good, and play some good defense," Mussat said. "I was impressed. That's what we were expecting. We expected them to be a good ball club, which they are."
The LS West offense did not give the SM Northwest pitching staff much room for error either. The Titans crowded the plate and capitalized on a couple of pitches left over the plate to score three runs in the first inning, and two runs apiece in the fourth and fifth.
Mussat was pleased with the outing from reliever Jake Snider, who would have struck out the side had it not been for a dropped third strike that allowed Blake Rast to reach safely.
"One of our pitching philosophies is to not to be afraid to throw inside," Mussat said. "Jake really did a good job with his command and coming inside and keeping them off balance for the most part."
The Cougars clawed their way to a 2-0 lead with Jared Marolf on the mound against Blue Springs. Northwest scored both of its runs in the second inning. Joe Todd scored on a fielder's choice, and Clayton Hale drove in Joe Specht with an RBI double.
Blue Springs was able to get to Marolf in the fifth, though, for a pair of runs to tie it before plating one in the bottom of the seventh to win it.
Northwest will try and salvage its third and final game of the River City Fesitval at 3:45 p.m. Friday against Jefferson City at Kansas University's Hoglund Ballpark.