Top teachers impressed by visit to De Soto district schools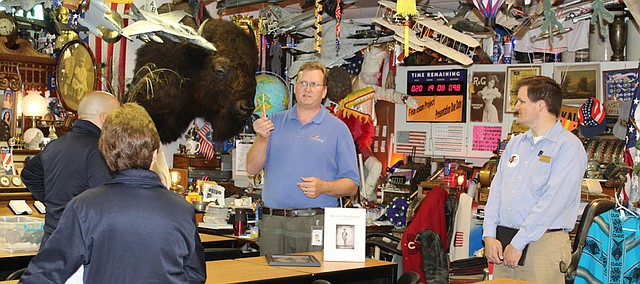 As the 2016 Kansas Teacher of the Year team stepped into Keil Hileman's classroom museum at Monticello Trails Middle School, they were immediately overwhelmed by the artifacts found there.
"Oh, wow," said Sheila Koup, a high school English teacher from Eureka.
"What does the fire marshal say?" joked Nona Mason, kindergarten teacher from Goodland, as she looked from the wall-to-wall items in the room to the desks equipped for educational archeological digs.
Visiting with Hileman was an appropriate stop for the team Monday, since Hileman was Kansas Teacher of the Year himself in 2004. He quickly offered up his help on anything, including how to start their own classroom museums in multiple subjects, and the team members seem to be enthralled.
"I think I'm going to suggest that my department comes here for a professional development day," said Kristoffer Barikmo, a social studies teacher at Blue Valley High School.
The team is comprised of Kansas Teacher of the Year Justin Coffey and the other seven finalists from throughout the state, including Anna Sahadeo, a second-grade teacher from Riverview Elementary School in the De Soto District. It has been touring the home districts of all eight members since January, and on Monday, it was Sahadeo's turn.
Members of the team were impressed with the ACCESS House for developmentally disabled students, as well as a tour of Mill Valley High School, where they were regaled with the school's multiple recent accomplishments, including state championships in football and boys basketball, a composite 24.2 ACT score last year and a first-ever school Relay For Life event that raised $48,000 on April 1.
"With all of these things combined, the spirit of this school has really changed over the last few years," Tobie Waldeck, Mill Valley principal, told the group.
Visiting USD 232 is the seventh of eight district tours, which the team was to finish up Tuesday in Blue Valley, home district of Barikmo, who happens to be a Shawnee resident.
The team also has been giving presentations to students at each of the teaching colleges in the state.
For Sahadeo, it has been hard leaving her students for days at a time, but still rewarding.
"As a team, we are having a phenomenal time together," she said. "What we're learning from each other and each other's districts, and being able to present to new teachers, it has been remarkable. I wish every teacher could have this experience."