New Shawnee doctors' practice offers 'direct' primary care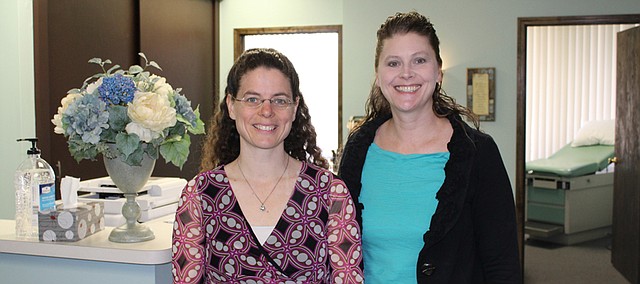 A new doctor's office in Shawnee is offering an alternative means of paying for health care.
Physicians Angelique Pritchett and Terese Bauer earlier this month opened Gianna Family Care, a direct primary care practice, in which patients pay the doctor directly rather than going through insurance.
"It's different because we're not on any insurance networks, so we offer our patients the option of being members of Gianna Family Care, and they'll pay a monthly fee to be members, and for that fee, we are able to provide all of their healthcare," Pritchett explained.
Pritchett was previously with College Park Family Care in Lenexa when she decided she either needed to create her own practice or find a new career path.
"Basically with the changes in health care, I found myself increasingly more frustrated with trying to deliver quality care," she said. "It just seems like there's more pressure to spend less time with patients and more time documenting."
Pritchett did research on the direct primary care style of practice by speaking with others who operate in this way, including a doctor in Olathe and the Atlas MD clinic in Wichita. With direct primary care, patients can pay membership fees monthly or annually to cover visits and consultations and therefore lower total healthcare costs by choosing a health insurance plan with lower premiums.
Patients are billed directly but can submit the invoice provided by the practice to their insurance for potential reimbursement.
"We can offer the care very inexpensively and still provide quality care, because it's very flexible," Pritchett said, adding that the patient determines how long each appointment is. "If a patient wants to come in for an hour, they can; if they want to come in every day, they can."
The doctors also invite patients to call, text or email them directly.
"I think we've come up with a really good balance so you're not compromising quality for affordability," Pritchett said. "They say that an average physician-patient visit is seven minutes now, and that's so in contrast to what we feel would be appropriate to deliver quality care."
Bauer previously worked with Family Health Care, in Kansas City, Kan., which has a mission to serve the three poorest zip codes in Wyandotte County.
"I really loved my work there; it was very fulfilling," Bauer said. "But I know Dr. Pritchett and had a desire to work with her. … As she shared with me her vision, I wanted to help."
The practice gets its name as an affiliate of the National Gianna Center for Women's Health and Fertility, an organization that follows the ethical and religious directives for Catholic Health Care Services. Gianna refers to a saint who decided not to have an abortion and died shortly after childbirth.
"We are both mothers, and we place our family as our highest priority," Bauer said. "We desire to have strong families as well as work at this clinic to help other families be strong as well."
They said they found their Shawnee location while seeking out something that would be close for Pritchett's patients from her former practice and also easily accessible for people throughout the Kansas City area.
"We received a lot of advice and counsel that Shawnee is an excellent place to own a small business," Bauer added.
The office building is located on a largely residential street, behind the Goodyear that faces Shawnee Mission Parkway at Bluejacket Street, but the doctors said they liked the neighborhood atmosphere for their practice.
Patients can enroll with the practice online at giannafamilycare.com and are invited to meet with the doctors for more information before enrolling by contacting the practice at 913-890-2555.