Winner of city's 'Mayor for a Day' contest proposes open houses, clean-up days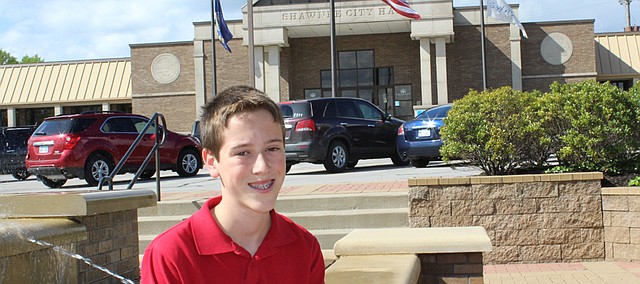 For Paul Hartman, a social studies assignment to take part in Shawnee Mayor Michelle Distler's inaugural "Mayor for a Day" essay contest came naturally.
Hartman's father is a Shawnee firefighter, and his grandfather was a volunteer captain in the Shawnee Fire Department. So when the St. Joseph Catholic School seventh-grader was asked to write about "how to get more people engaged with their local government," he had a quick answer.
"One way is to host open houses at the fire department and police department like Shawnee used to do," he wrote. "… There could be open houses at more place like the police department and City Hall, too. People could see what it's like to work for the city government and raise interest in it."
He also suggested the city publicize its cellphone app and organize park clean-up days. His essay was selected as the winning essay last week, and he will be recognized at Monday's Shawnee City Council meeting.
Because of his dad's job, Paul said he feels like he knows a bit more than his classmates about how the city works.
"There wasn't really any research involved," he said.
He learned about the Shawnee app through his teacher, and he said he had a feeling most people don't know about it.
"Advertisements can be posted around parks and other public places to make people more aware of it," he suggested in his essay.
His mother, Teresa Hartman, said Paul's inspiration for the park clean-up day suggestion was his own neighborhood's annual clean-up.
"The neighbors come out to clean up the park, and they make it a lot of fun," she said.
As the winner, Paul will also get to spend part of a day with Distler to see firsthand what it is to be mayor of the city.
He said he doesn't plan to follow in his father's footsteps career-wise — he thinks he might become an engineer or video game developer — but he said the experience might teach him about getting involved in his community in other ways.
Distler began the "Mayor for a Day" essay contest this year as a way for youth to better connect with their local government, so the theme for the first year was closely related to that.
The contest was open to all seventh-grade residents in Shawnee. Distler plans to continue the essay contest annually, kicking off the competition in February of each year.
Katie Killen, assistant city manager, said in the first year, St. Joseph's was the only school to participate this year, turning in 31 entries, but city officials hope more Shawnee schools can work the contest into their curriculum in future years.