For the love of the game: Shawnee production company behind documentary highlighting small-town Kansas baseball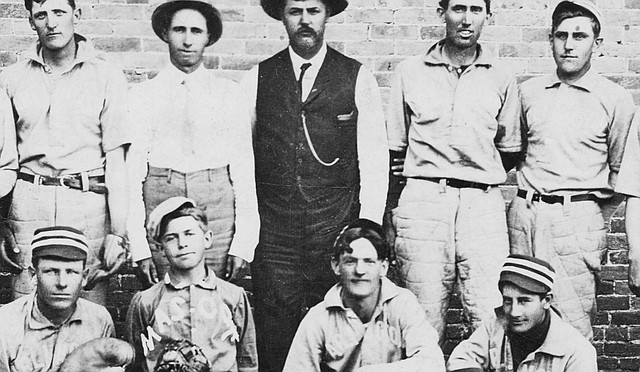 With last season's World Series win, it's clearly an exciting time for professional Kansas City baseball fans.
And the state-of-the-art Kauffman Stadium, with its nearly 40,000 seats, impressive array of concessions and that huge crown-topped high-definition scoreboard is where you will likely find many of those fans whenever their beloved Royals are playing a game at home.
There was a time in Kansas around the turn of the 20th century, however, when small, non-professional baseball teams drew the same kind of love and attention from their surrounding communities as the Royals do today. That's the period Shawnee resident and filmmaker Mark Honer chose to focus on in his documentary, "Town Teams: Bigger than Baseball." The 40-minute film will have its premiere at 7 p.m. Thursday at Shawnee 18 Theatres, 16301 Midland Drive.
"Town Teams" is the first film created by Honer and his staff of six at the video production company, DHTV Digital, he started 20 years ago and which is now located in Shawnee. His company mainly works on the creation of short television production projects for ad agencies and marketing companies. But for years, Honer said, he had been wanting to sink his teeth into a larger documentary project. The avid baseball and Royals fan says the sport wasn't actually his first choice of subjects, however.
"I was actually researching a story about the oil boom in El Dorado back in the early 1900s," said Honer, who grew up in El Dorado and had in mind the possibility of focusing his documentary on the nearby town of Oil Hill, where he used to go rabbit hunting as a youth and which is now a ghost town.
"What I learned was that there was an excellent documentary that had already been done on the subject," Honer said, speaking of the KCPTV film "Oil Dorado."
Still, while plan A was no longer an option, Honer couldn't get out of his head the black-and-white photograph of a small baseball team he had come across in a book about Oil Hill.
"I thought, I wonder if there were other (baseball teams in small Kansas towns), and it turns out there were hundreds and hundreds and hundreds. These tiny little towns … really as small as 100 people in the early 1900s would field a baseball team. And they would play all summer long, and they would play each other," Honer said. "This was the adult men of the town, and they just got into it and it became huge. It was front page news."
In his research, Honer discovered that what these teams lacked in being made up of professional paid players they more than made up for in the influence they had over everything from where businesses would locate to where highways and railroads were developed, since the more successful the team, the more economically favorable the town would appear to business owners and developers.
"It was bigger than just bragging rights and pride and rivalry," Honer said. "Baseball was a tool in assimilating immigrants. Because baseball was the thing. It was really by far the most and only prominent sport of the time. People who were immigrating to the United States, they wanted to fit in, they kind of had to learn baseball. And that kind of became sort of a common language to help immigrants understand what America was all about."
Using interviews with historians, old photos and newspaper clippings, and a re-enactment of a turn-of-the-century baseball game, Honer's film will highlight these discoveries, as well as one of the main drivers behind the sport's development in small-town Kansas in the first place: the players' clear love for the game.
"When I started researching the film, I fell in love with the players," Honer said in a news release about "Town Teams." "Most of them put in 70 hours a week at their jobs. But when the weekend came, they put on these heavy, wool uniforms and played baseball in the scorching hot sun. Now that's loving the game."
Honer said it took quite awhile to complete the film, which he calls a true labor of love.
"This is just something that I wanted to do, so we've been working on it for about 18 months," he said. "You kind of got to take care of the paying customers, then you have a week or two to kind of hit it hard. Then you set it aside and take care of your clients until you have some more time. This was kind of the back-burner project, but it was something I got excited about."
Thursday night's premiere, which is free to attend, will be followed by a panel discussion led by authors and baseball historians Dorothy Seymour Mills, Mark Eberle and Phil Dixon. Honer says the film has screenings scheduled later in El Dorado, Topeka and Wichita. He also plans to enter it into some festivals "and let the judges decide if they think it's any good." He plans to work on more documentary projects in the future.
As for his audiences, Honer said he hopes "they get a glimpse of the passion that the players put into playing the game back then."
"I hope they get a feel for how baseball affected more than just a team's record … it had a huge impact on shaping Kansas culturally," he said. "These guys worked probably more hours than us and mostly hard labor jobs, and the way they relaxed was they go back out in the sun and play three hours of baseball. It just says something about how much they loved the game."