Shawnee landfill odor complaints reduced in recent months
City officials work with Deffenbaugh to prevent future odor output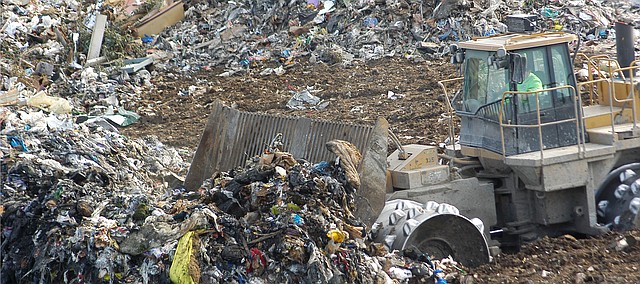 In the months since efforts were made to contain odors at the Johnson County Landfill, city officials say odor complaints have been greatly reduced.
At the end of 2015, wet conditions caused odor problems at the landfill, operated by Deffenbaugh Industries, now a subsidiary of Waste Management, leading to daily odor complaints from Shawnee residents. However, since Deffenbaugh made efforts to control the release of gases, complaints have been reduced to "normal" levels.
Vicki Charlesworth, deputy city manager, said that as of Monday, there had been four odor complaints in April.
"City staff is committed to investigating those complaints when they come in, even if I have to dispatch a police officer in the middle of the night to do it," Charlesworth said. "Of the four, there were faint smells, but it wasn't anything like what we were having before."
Charlesworth and Paul Chaffee, city planning director, have been working together to address the issue with Waste Management and to identify potential other odor sources.
"Really, if it's not an ongoing issue for people, if they can sit out on their deck 99 percent of the time without a problem, that's what Paul and I are trying to get to," Charlesworth said. "That it's not an ongoing, consistent issue like what we were having in November and December and January."
Waste Management completed the purchase of the landfill, originally owned and operated by Deffenbaugh Industries, in March 2015.
Between April and August, about 34 inches of rain impacted a new cell right next to an older cell that was ready to have gas collection pipes installed. The moisture accelerated the decomposition of waste in the older cell, leading to odor problems in two landfill "cells" that Deffenbaugh couldn't keep up with.
From October through December, there were 138 odor complaints with the city, the most coming in December, when at least one complaint was logged each day.
Deffenbaugh got permission from the state to install collection pipes in the cells in January and February, and installed a flare to burn off some gases. The company also installed a weather monitoring station on the site to measure barometric pressure and determine the height of the cloud ceiling, which will allow landfill staff to take odor mitigation practices in extreme circumstances.
Deffenbaugh has posted the steps it has taken to address odors at johnsoncountylandfill.com.
Charlesworth said in one of the four complaints this month, the resident complained of odor at Pet Stop, 6218 Nieman, which Charlesworth said was unlikely to be due to the distance to the landfill.
"A lot of (other) times, by the time we get out there, with the hills we have in Shawnee, sometimes there is a landfill odor but it dissipates so quickly, by the time we get out there to investigate, it's gone," she said.
Charlesworth and Chaffee have not only taken few odor complaints, they have been working with Waste Management to revise the stipulations in its special-use permit.
The city of Shawnee has no method of penalizing or citing Deffenbaugh for the increased odors. The Kansas Department of Health and Energy also has no method of enforcing odor restrictions on landfills, only the landfill's gas emissions.
In March, there were a few days that the city received numerous complaints that turned out to be related to the landfill's composting operation, so that now will be part of items addressed in the special-use permit.
"We've been working with them on some language to make sure that we get what we need," Chaffee said. "And a lot of it is going to have to do with more reporting and monitoring, and making sure that they understand that if they are going to turn their compost pile, they make sure they let us know ahead of time so when we start getting those complaints, we can respond."
Chaffee said they also are looking at the odor control plan for the future — what Waste Management can do proactively, as future cells are created and as rain or other weather impacts the landfill, to ensure there aren't large odor problems.
"I think we're pretty close to coming to an agreement, and then that will go back to the planning commission on May 16," Chaffee said.
In the meantime, city officials have been searching the area to see whether other sources of odor could be causing the problems reported, and Chaffee said they think they have identified a water treatment plant in Kansas City, Kan., as a possible source of odor, especially east of Interstate 435 when winds are blowing from the north.
More like this story