Plugging into the voting process:
SM

North students use Johnson County ballot machines
Election office seeks to get voting program in all high schools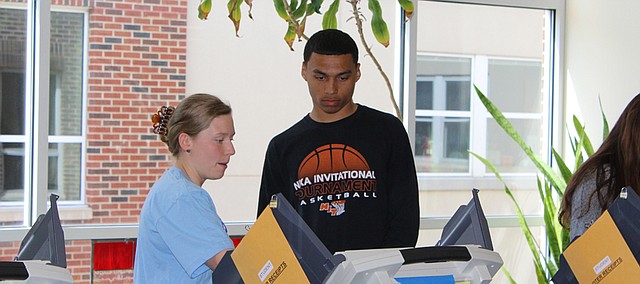 On Wednesday morning, the library at Shawnee Mission North High School was uncharacteristically loud.
Batches of students moved in and out, talking excitedly as they waited to vote, many for the first time, on Johnson County Election Office voting machines — even though the vast majority aren't yet 18. The students were instead voting for their student council and pep club officers through a pilot outreach program the election office created this year that allows students to register to vote, practice using the voting machines and even learn the basics of running a polling site.
"It's as close as you can get to replicating what our voters go through in Johnson County," said Ronnie Metsker, Johnson County Election Commissioner.
With the Legislature's recent decision to move local elections from April to November, Metsker said, the election office now will have time in the spring for the outreach program.
"We can teach them about these voting machines," he said. "Now, when it comes time for the regular election, they're not going to be nearly as intimidated walking up to a machine like this and making their selection for a real candidate."
The pilot program also will be used as a means to get students to register for voting, even if they aren't yet 18. Metsker said they can fill out the forms at school and then later email proof of citizenship — a photo of their passport or birth certificate — to the election office.
Additionally, the program trains students to run the school election, which is beneficial because the election office hopes to recruit those same students to work during real elections. The Legislature recently changed laws so up to one third of poll workers in elections can now be 16 or 17 years old in actual elections.
"So if we have nine election workers at a polling site, three of them can be a 16- or 17-year-old," Metsker said.
Previously, only one underage poll worker was allowed per polling site. Metsker noted that the students can earn a stipend both for training and time they work at the poll.
He said the outreach program therefore helps students better understand every aspect of voting.
"And now what have we done — we've engaged a student much more deeply," Metsker said. "Not only are they voting, but they're getting much more into it by being an election worker. I think that's a huge way to get a student involved to be a voter for a lifetime. What better way can we do that than to have them vote as a freshman in high school?"
Metsker said the election office's goal is to get the program, which was also piloted at Olathe Northwest High School earlier in April, in all 28 high schools in the county as soon as it is able to coordinate with the high schools.
"That's the first thing, is the school leadership has to say, 'We want to do that,'" he said.
Hannah Gaddis, head of student body elections at SM North, said the school used paper ballots up until two years ago, when all high school students were given a MacBook Air for school use. Student elections were then conducted via email ballot, but turnout was still low, Gaddis said.
"It just kind of didn't get participation, even with the ease of it being right there for them to vote," she said. "Either they just didn't or they forgot."
So Gaddis and the Student Council worked with social studies teachers to ensure each class would have the chance to use the machines in the library. About 1,200 freshman, sophomores and juniors had the option to use the voting machines in elections this week for student council and pep club officers.
Katie Cormack, government teacher, said she thought the students were more excited to use the machines rather than just vote via email.
"I think it's pretty cool that this is an authentic learning experience," Cormack said. "I told them to bring their photo IDs, so they see what it looks like, see what it's like standing in line."
Students interested in being election workers can submit a letter of recommendation to qualify and fill out an application available at http://bit.ly/jocostudentworker.