Stag's Creek project moving forward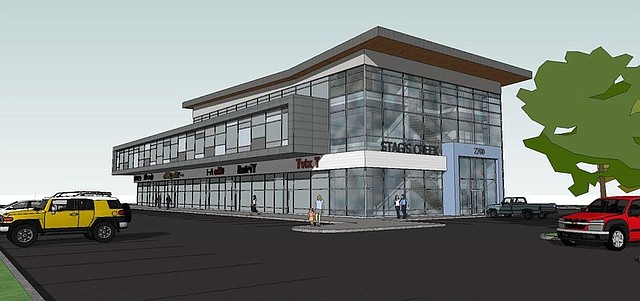 A much-anticipated project set for the eastern gateway of Shawnee has been given the green light.
At its meeting last week, the city council approved rezoning for the Stag's Creek development, which will include a new modern three-story office building to sit on the northwest corner of Goddard Street and Shawnee Mission Parkway.
The site will eventually include an additional 2,800 square-foot retail building as well.
The council also unanimously approved a 10-year, 90 percent tax abatement, totaling around $8 million, for the project.
A vacant used car lot, laundromat, dry cleaning facility, drive-in restaurant and pawn shop have been demolished to make way for the new development.
The 35,000-square-foot office building will feature approachable professional office space — for a bank or dentist, for instance — on the first floor and a commercial parking structure underneath.
The building will be constructed out of glass, steel, stone and wood elements.
It will be the fourth office building larger than 25,000 square feet in Shawnee, Andrew Nave, the executive director of the Shawnee Economic Development Council, told the council.
Several council members expressed their excitement about the project.
"We do have a critical need for office space in Shawnee, especially multiple story office space," Councilman Brandon Kenig said. "This is a game changer."
Councilman Jim Neighbor agreed Stag's Creek was a well-needed improvement for Shawnee. He thinks the project could be a precursor to other development in the city.
"It's going to be a welcome addition to the entry of our city and the beginning of many good things to come, especially as we work on the Nieman corridor," he said.