Man attempts to break into closed business, sparking high speed pursuit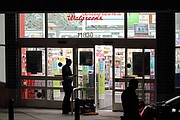 Shawnee Police are investigating after a man attempted to pry open the doors of a closed Walgreens store near 75th Street and Quivira Road shortly after 3 a.m. Tuesday.
Major Dan Tennis of the Shawnee Police Department says officers responded to the business, located at 11830 West 75th Street on an attempted aggravated burglary.
"Two employees inside heard and then were watching someone attempting to pry the front doors to the business open," Tennis said. "As officers arrived, the suspect fled in his vehicle, east on 75th Street, north on Nieman."
The fleeing suspect allegedly swerved at an officer, who was responding to assist with the pursuit, near 64th Street and Nieman Road.
Recorded radio traffic indicates speeds during the pursuit reached 80 miles per hour on Nieman Road near Shawnee City Hall at Johnson Drive and Nieman Road.
After crossing into Kansas City, Kansas, the suspect drove down a dead-end street, then over a curb and into a grassy area. Maj. Tennis confirms two of the three police cars followed through the grassy area and through a backyard in the 800 block of South 53rd Street.
Maj. Tennis says the suspect vehicle was described as an older blue Chevy pickup with Kansas license plate 261 FER. The driver was only described as a white male.
"They lost sight of the suspect vehicle and the pursuit was terminated," Tennis said. "We have some leads to follow-up today to try and identify the suspect."
No injuries were reported.
---
Operation 100 News provides overnight news coverage for the Shawnee Dispatch. Follow on Twitter for real-time updates.
More like this story