Election 2016: Republicans Cox, Brim take the primary in state representative races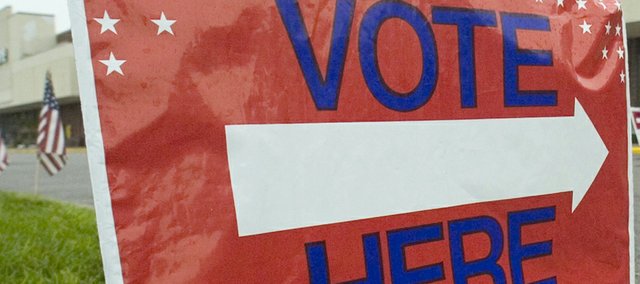 A couple fresh faces to the political scene are among the winners in recent Shawnee-related primary races.
According to the unofficial results posted to the Johnson County Election office website Tuesday after polls closed, 30-year-old Tom Cox beat out incumbent Brett Hildabrand in the Republican race for the District 17 seat in the Kansas House of Representatives.
Cox, who has no political experience, seized 62 percent of the vote, or a total of 1,902 votes.
Hildabrand, 35, received 1,189 votes.
Cox will face Democrat Helen Stoll in the general election in November.
"I got into this (race) because I love my community and I was fearful for my state," Cox told the Dispatch. "To see the support from so many people is phenomenal. There are a lot of people putting their faith and trust in me and it is both humbling and exciting."
He added that his goal for now is to continue running a clean campaign.
"I want to keep the focus on the issues and on the direction I want the state to go in, rather than on my opponent," Cox said. "I'm going to keep knocking on doors and meeting as many people as I can until November."
District 17 covers central Shawnee, Lake Quivira and part of Lenexa.
Over in the 39th district Republican race for state representative, Shelee Brim overtook both her opponents, incumbent Charles Macheers and 71-year-old Owen Donohoe.
Brim, a retired teacher who is also new to the political scene, received 43 percent of the vote, or a total of 954 votes.
Macheers, a 49-year-old attorney, received 753 votes and Donohoe, who served as state representative for District 39 from 2006 to 2012, received 497 votes.
Brim will face Democrat Angeliina Lawson in the general election in November.
"I feel humbled that the citizens of District 39 chose me to represent them in the general election in November," Brim told the Dispatch. "My team of volunteers worked very diligently to make this happen. I look at this as a victory for 'we' rather than 'me.' There was concern that we started the process late with filing at the last minute. However, people were ready for a change and that showed in the votes."
District 39 covers western Shawnee.
In the Johnson County Sheriff's race, Republican Calvin Hayden beat out fellow Republican opponents John Resman and Dennis Hammer.
All three are retirees of the Johnson County Sheriff's Office.
Hayden, a former Johnson County Commissioner, received 37 percent of the vote, with a total of 18,188 votes.
Resman, a retired Captain, came in close with 34 percent of the vote, or 16,971 votes.
Hammer, who now works with special needs children in the Olathe School District, came in third with 14,376 votes.
No Democrats filed for the seat.
In the federal primary races, Republican incumbents held their own.
Current U.S. Rep. Kevin Yoder, a Republican from Overland Park, beat out Greg Goode in the race for the District 3 seat.
Yoder came in with 63 percent of the vote.
On the democrat side for District 3, businessman Jay Sidie, of Mission Woods, defeated Reggie Marselus of Lenexa and Nathaniel McLaughlin of Kansas City, in Tuesday's primary.
Sidie came in with 51 percent of the vote.
Yoder and Sidie will face each other in the general election in November.
In the Republican race for U.S. Senator, incumbent Jerry Moran beat out his opponent, DJ Smith.
Moran received 79 percent of the vote.
On the Democrat side, Patrick Weisner, of Lawrence, beat out his opponent Monique Singh.
He received 63 percent of the vote.
Moran and Weisner will face each other in the general election in November.
Results for all races won't become official until the final canvass is conducted.