National Night Out brings police, citizens together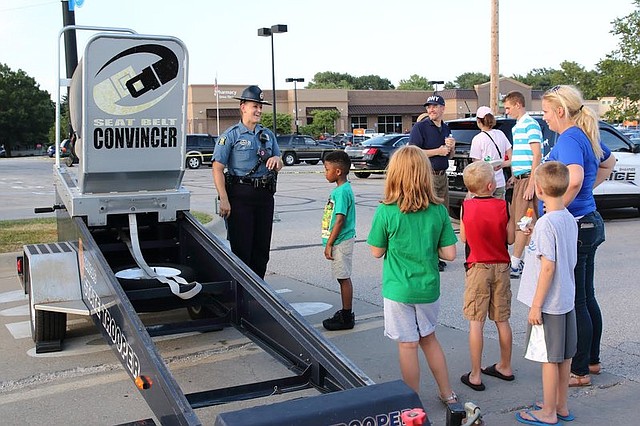 When six-year-old Owen Smith sees a police officer now, he doesn't just see a uniform, he sees a friendly face eager to help.
"Police officers are nice, not scary," the Mill Creek Elementary School first-grader concluded last Tuesday evening, at the Shawnee Police Department's National Night Out event.
It's a little statement that has big meaning for law enforcement officers.
The nation's recent wave of tragic shootings have given a special significance to this year's National Night Out campaign, which is celebrated in hundreds of cities across the United States every August.
The event started out more than 30 years ago as a way to promote police-community partnership and help keep the city safe.
The Shawnee Police Department held its event in front of the Walmart Neighborhood Market at 75th Street and Nieman Road last Tuesday evening.
Hundreds of people showed up to enjoy hotdogs and hamburgers, meet police officers, see police vehicles and equipment, and learn about the department's technology and equipment.
"It's really nice to do something positive for the community," said Roman Madrigal, the master patrol officer who organized the event. "We're not out here arresting people or giving tickets. We're talking to people and having a great time."
For Councilman Brandon Kenig, the scene of families chatting to police officers was a heartwarming one.
"Police officers are members of the community who care about the same issues we all care about," he said. "It's important people see them as citizens who want to make the streets and schools safe, and not as intimidating figures."
It's a mentality that Brandi Warren, of Shawnee, hoped to teach her eight-year-old sister, Chloe.
While at the event, the two siblings snuck a peek into the police department's mobile command center, took photos of a police dog, and learned about SWAT technology, such as a ballistic shield and bulletproof vest.
"It's important to support the police, especially right now when they need it the most," Warren said. "Police officers do more than just take people to jail. They're there to help you."
The huge crowd and show of support on Tuesday evening exceeded the police department's expectations, said Madrigal.
"I hope we can do more events like this in the future," he said. "The Shawnee Police Department has always worked hard to be visible and engaged with the community. It's important to us."