Shawanoe Elementary kicks off school year with new principal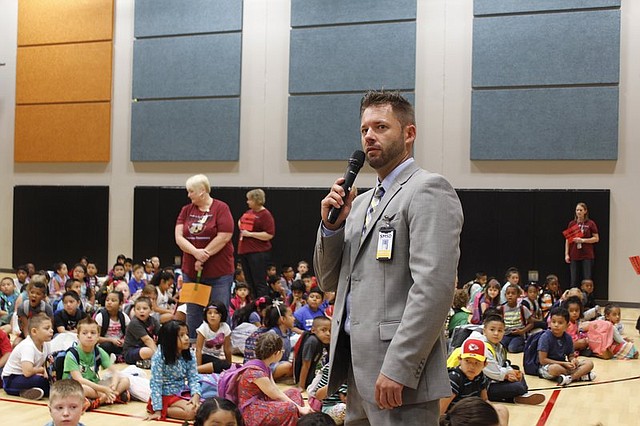 A line of cars slowly moved along the school's circular drive.
Kids smiled obediently in front of the large new building, while parents snapped photos with smartphones.
Some students laughed as they greeted their friends. A few cried as they watched their parents drive away.
And standing in the middle of the typical first day chaos at Shawanoe Elementary School on Friday morning was Dominic Flora, its brand new principal.
As young students enveloped the building, his face lit up with a relaxed and friendly smile as he greeted them.
Unlike the children swarming around him, Flora didn't have the usual first-day jitters.
"I'm excited more than nervous," he said. "I just want to get the kids in and out of the building safely. And I'm pumped to start this school year."
While Flora may be new to Shawanoe, he's no stranger to the job.
He spent the past four years as the principal of New Chelsea Elementary School in Kansas City, Kan..
Many years before that, he started out his career as a middle school English teacher on the Missouri side.
He's excited to be part of the Shawanoe family because the elementary school's diverse population is reminiscent of his own childhood.
Flora, now an Overland Park resident, was educated in the Kansas City, Mo., school district.
"Growing up in a diverse public school system had a wonderful impact on me because it shaped who I am," he said. "That population is representative of our world and allows you to accept people regardless of race, religion, culture, or socio-economic status. It teaches you to get along."
With a new principal, and also a new building, Shawanoe is off to a fresh start this school year.
In March, Shawanoe students moved into their new school building at 11230 W. 75th St.
It is located directly behind where the old school used to stand.
The new building meets the district's new safety and security standards and has technological upgrades, such as Apple TV, motion-sensor lights, and environmentally friendly bathroom features, such as hand dryers and low-flow toilets.
It also has a new playground, a separate gymnasium and cafeteria, and a large circle drive.
"It's pretty luxurious and there's a sense of pride about having a new building," Flora said. "I'm excited to see the evolution of Shawanoe. This school has a very close-knit community and that's a very special thing."
Some of the things he's looking forward to the most are getting to know each student's name and learn everything about them.
"I want to slap high fives and learn what they like or don't like," he said. "I want to get to know their families because my No. 1 priority is taking care of these kids and keeping them safe."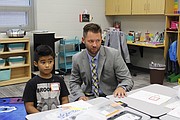 His main goals for the upcoming school year are to help Shawanoe students both academically and socially.
Because for Flora, an education isn't just about academics, it's about the whole child.
"I want to give them skills — innovation, teamwork, problem-solving — to be employable citizens and productive people in this world," he said. "I want them to feel confident."
On Friday morning, Flora started out the first day on a positive note by incorporating TAPS while the students sat in the gym.
TAPS, which means total and perfect silence, is an educational strategy used to give students five quiet minutes to relax.
Around 450 young students followed Flora's lead by sitting peacefully in silence.
When time was up, each class quietly lined up with their teacher and walked to their new classroom.
"The TAPS in the gym really set the tone because my kids came into the classroom calmer than they have in my nine years of teaching here," said Audrey Burks, a fifth grade teacher at Shawanoe. "They're ready to learn, which is strange on the first day of school at 8:10 a.m."
But, she's not surprised.
"It's a calming effect," Burks added. "When you take a moment like that, it re-centers you. All kids have a bit of anxiety on the first day and TAPS helps them feel safe, to know there's someone in charge."
After seeing his first-day approach, Burks is excited to have Flora lead the school.
"He's approachable and it's clear in his actions he has the best interest of the kids," she said.
On the first day of school, Flora was barely in his office.
He was out visiting each classroom, meeting students and answering teacher's questions.
And that's how he plans to do his job for the rest of the school year.
Flora wants the kids to get to know him, so they don't feel intimidated coming up to him with any problems or concerns they may ever have.
After all, he's not a scary guy.
"I'm just an over-the-top Royals and Chiefs fan who loves coaching my son's basketball team," he said, with a laugh.
His upbeat demeanor even put the most nervous of students at ease.
While he was making his rounds to each classroom, he came across a shy little girl standing by her mom's side in the brightly lit hallway.
"She doesn't want to be here," her mom admitted, a bit sheepishly.
Flora turned to the girl.
"Today is my first day too, did you know that?" he asked her.
She shook her head.
"How about I look out for you and you look out for me?" he asked. "Does that sound like a deal?"
She nodded, smiling.
Flora grinned back.
"It's going to be a great year," he said.
More like this story