Stolen vehicle crash and search overnight near Trailridge Middle School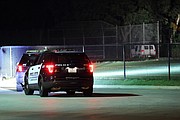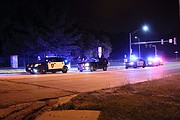 Police continue to investigate after a stolen van failed to yield for Prairie Village officers late Monday night.
Master Police Officer Dan Friesen of the Lenexa Police Department says Prairie Village Police attempted to stop a stolen van before midnight. The vehicle failed to yield and and a car chase ensued.
Major Dan Tennis of the Shawnee Police Department says a Shawnee police vehicle near 75th and Nieman was nearly struck by the white van at 11:57 p.m. Monday.
"The van was reportedly driving westbound in the eastbound lanes of 75th Street," Tennis said. "Our officer tried to stop the van and it drove into Lenexa, behind Trailridge Middle School."
The suspect drove through a fence, onto the brand new artificial turf of the school's athletic fields and then crashed into a wooded area.
"The driver fled the vehicle on foot," Friesen said. "A search of the area did not result in immediate apprehension of the suspect."
A tow truck removed the stolen van from the scene.
"Around 5:10 a.m. this morning, a citizen walking their dog was approached by a man who asked to use the telephone," Friesen said. "The citizen refused and called police."
The man was taken into custody at 5:18 a.m. along Pflumm Road just north of Blackfish Parkway in Shawnee. The suspect stood handcuffed and barefoot on the sidewalk with officers from Shawnee and Lenexa awaiting the arrival of Prairie Village officers.
"Prairie Village officers responded and confirmed this was the driver of the stolen vehicle," Friesen said.
As of 10:30 a.m., Prairie Village Police have not responded to requests for additional information.
---
Operation 100 News provides overnight news coverage for the Shawnee Dispatch. Follow on Twitter for real-time updates.