Shawnee looks to attract more foreign investors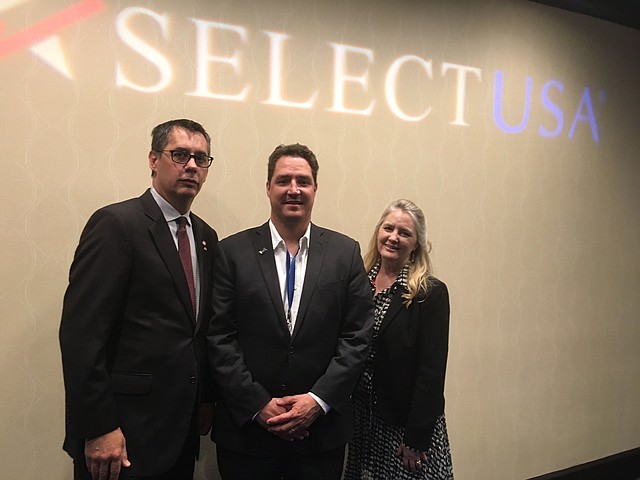 The city of Shawnee recently was represented on a global scale, as city officials aim to bring more international businesses to town.
Last month, Andrew Nave, executive director of the Shawnee Economic Development Council, along with Kansas state officials, attended the 2016 SelectUSA Investment Summit, which brought together around 2,500 people and more than 1,000 international companies in Washington D.C.
The annual three-day convention allows owners of international companies, who are eager to expand to the United States, a chance to meet government officials, from the federal to local levels.
Established by President Obama in 2011, SelectUSA is a government program aimed to promote and facilitate job-creating business investment into the United States.
At the convention, Nave's goal was to meet international businesspeople who are looking to expand their company to the United States.
Recruiting successful internationally owned companies is a smart strategy because it will create more high-quality jobs for Shawnee residents and boost the city's economy, Nave said.
The city has already seen success when it comes to drawing international companies.
Global businesses in Shawnee include Bayer Animal Health, based out of Germany; VitaCraft Corporation, based out of Japan; and Leland Industries, based out of Canada.
Plus, the vast majority of sales done by Shawnee-based company Bio-Microbics is international and the WestLink Business Center development is owned by Airtex of Canada.
"Shawnee is ideal location for international businesses wanting to expand because we are smack dab in the middle of the United States, so we have lower cost of labor and living," Nave said. "Being part of a large metro area also means we have direct flights to most major cities, which is a huge advantage."
He also believes Shawnee workers have a lot to offer.
"We have a strong labor force in the area," Nave said. "There are many people with manufacturing skills and logistical skills."
The feeling appears to be mutual.
According to the Organization for International Investment, a non-profit group based out of Washington D.C., global investment supports more than 24 million U.S. workers.
"While there is certainly growth generated in economic hot-spots like Silicon Valley, the locations where global investment is having the biggest impact on U.S. workers are in states like North Carolina, Indiana, New Jersey, Michigan, and Kansas," its website states.
The site also reveals that the United States' top investors are the United Kingdom, Japan, the Netherlands, Canada, and Germany.
While at the SelectUSA Investment Summit, Nave sat down with businesspeople from Brazil, Israel, Canada and Taiwan.
He talked about their interest in expanding their company to the United States, discussed the advantages of opening a business in Shawnee and educated them about the state of Kansas.
One of his meetings could lead to an exciting development, Nave said.
While he can't divulge details yet, he confirmed he's still talking to a Brazilian food-processing company about potentially expanding to Shawnee.
"I was blown away by the desire of people eager to invest in the U.S.," Nave said. "When you're a successful company, you expand all over the world, no matter if you're an American company or a Japanese company. It's what you do. If we don't welcome these businesses to the U.S., these investors will go somewhere else with their dollars. Why would we turn down high paying jobs in the United States?"
Nave feels fortunate he was able to attend the SelectUSA Investment Summit with officials from the Kansas Department of Commerce, because it saved a significant amount of money.
"It's not a good use of our own resources for us to fly out to places like Brazil to meet companies, so a conference like this is a big deal," he said.
He also feels lucky to live in a city which is so welcoming to people from other cultures and other countries.
"New perspectives and new ideas and diversity are components to a healthy community," Nave said.
For more information about SelectUSA, visit selectusa.gov.