Shawnee home damaged by afternoon fire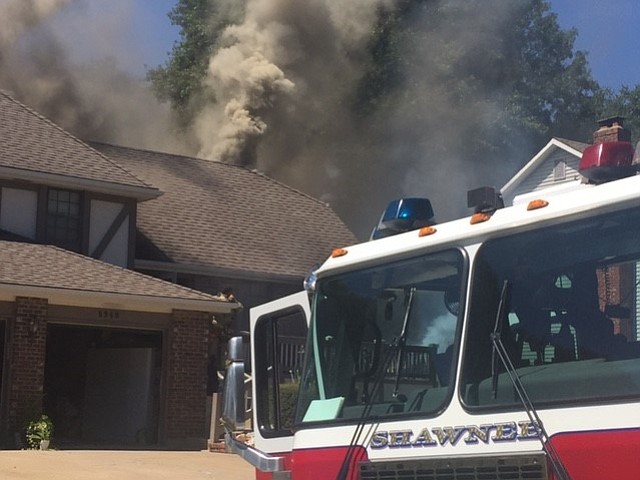 An extension cord has been cited as the cause of an afternoon house fire in Shawnee.
Shawnee Fire Marshal Corey Sands says firefighters were called to the home located at 6940 Widmer Road shortly before 2 p.m. and arrived with flames showing from the front of the home and entering the attic.
"The family's neighbor noticed the fire on the front porch of the home and alerted the family to get out and call 911," Sands said in a news release.
Shawnee Fire Investigators determined that an extension cord being used on the front porch of the home sparked the blaze.
"Extension cords should not be used for permanent wiring," Sands said. "Hire a certified electrician to install additional outlets instead."
According to the National Fire Protection Association, U.S. fire departments responded to an average of 47,820 reported home structure fires involving electrical failure or malfunction between 2007 and 2011.
At Monday evening's Shawnee City Council meeting, Mayor Michelle Distler read a statement from the homeowner's daughter, Kristie Everett.
"Watching my parents watch their home burn isn't anything I would ever wish on anyone! Absolutely heart wrenching watching your childhood home, pictures and things that can't be replaced turn to ashes! Thankful my parents and their dogs are safe. Praying that their cat is found safe as he ran back inside when he was startled by the firefighters. Beyond grateful for the men and women of the Shawnee Fire, police, EMS and animal control who where there today. They were AMAZING."
Damage to the home is estimated to be approximately $75,000.
Firefighters from the Lenexa and Overland Park fire departments assisted Shawnee firefighters on the scene.
No injuries were reported.
---
Operation 100 News provides overnight news coverage for the Shawnee Dispatch. Follow on Twitter for real-time updates.
More like this story