Mill Valley's Hadden wins
SMNW

Invitational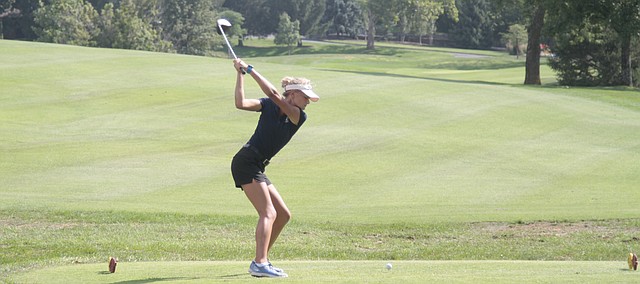 Lake Quivira — Six days after teammate Meg Green claimed a first-place finish in the Cat Classic at Shawnee Country Club, Mill Valley junior Bella Hadden followed in her footsteps by winning SMNW Invitational Monday at Lake Quivira Country Club.
Hadden shot a career-best round of 79 to edge Shawnee Mission East senior Teagan Noblit by one stroke for the individual championship, and helped the Jaguars finish as tournament runner-ups to the Lancers.
"Ever since I started playing in high school, I wanted to win a high school tournament," Hadden said. "This is my first time breaking 80 in a tournament, so I was really excited to get that done."
The Jaguar junior got off to a sluggish start, but an hour-long lightning delay just four holes into the tournament allowed Hadden to regroup for a strong finish to the front nine.
"I had a triple and I ended up being 5-over through three holes," Hadden said. "Then we played one more hole and got to a lightning delay, and after that, I was really able to turn it on and ended up being 2-over for the rest of it."
Hadden found a rhythm from tee to green after the delay until her drive sailed right on the ninth hole. However, Hadden's irons were go-to clubs for her all day, and helped her make the turn to the back nine on a high note.
"I was 90 yards behind a tree that I had to hit over, and then I ended up being like an inch away," Hadden said. "That felt good. I had at least three shots that were within two feet when I was hitting them from over 100 yards out."
While Hadden led the way for the Jaguars, Green was not too far behind. The Mill Valley senior fired a round of 85 to tie for fourth-place, and sophomore Sarah Lawson also cracked the top 20 by tying for 20th.
"Our team has a lot of talent this year," Hadden said. "We're hoping to go back to state and finish better than we did last year."
Seniors Grace Van Inwegen and Claire Anderson rounded up the competitors for the Jaguars by finishing in a tie for 23rd and 28th, respectively. The Jaguars had a team score of 368 to finish 33 strokes behind SM East. The tournament also doubled as the first leg of the Sunflower League tournament, but the Jaguars did not figure in those standings since they were the lone non-SFL member competing.
SMNW takes sixth in home tournament
Shawnee Mission Northwest placed sixth overall, and fifth out of the Sunflower League team at its home invitational with a total score of 431.
Cassie Gomer paced the Cougars with a round of 97 to tie for 12th place.
"It was very hot and a little wet, but other than that, it was alright," Gomer said. "The course was well-kept and I felt that relatively I hit pretty well, but it was kind of an average day."
Gomer felt that her best shots of the tournament came off of the tee.
"Probably my drives because those weren't on the grass," Gomer said. "The grass was just really wet, and every time I hit in the fairway or rough, I would just chunk it."
Gabby Cortez was the Cougars' No. 2 golfer on Monday, and rounded out the top 25 with a score of 105. Sophie Leonard and Sidney Henkensiefken respectively finished in ties for 37th and 41st.
Lalumondier leads SM North
Shawnee Mission North had four golfers on the starting list for Monday's tournament, but only one was able to compete while her teammates battled the flu bug.
Anna Lalumondier carded a round of 148 to place 52nd overall.
"I think toward the middle when we finally started going after the shutdown from the rain," Lalumondier said. "I think I really got with the flow and just went with it after that."
The highlight of the tournament from Lalumondier came on the ninth hole, as she drained a 45-foot putt.
Although Lalumondier said that she has sank a few putts from further out, seeing the 45-footer fall was a good confidence-booster for her first tournament of the season.
"I think it's going to keep me going knowing that I can get that again or beat it," Lalumondier said.
Lalumondier felt good about her overall performance, but she hopes that her teammates can get back on the course soon and compete with her going forward.
"(We need to) make sure that we're practicing and keeping ourselves healthy — feeding ourselves, hydrating and just preparation," Lalumondier said.