First-year coach Hines brings new energy to Maranatha girls basketball program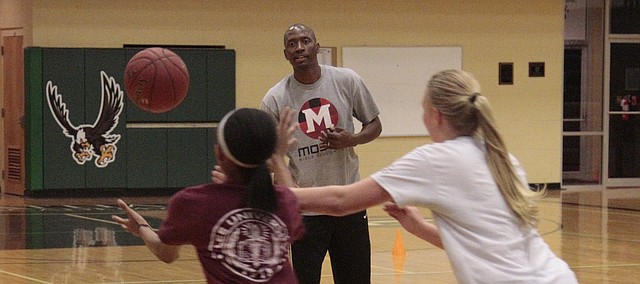 After watching a few games of the Maranatha Christian Academy girls basketball team's winless season last year, Reggie Hines felt that he could offer something special to the program.
Hines will get a chance to do just that as he takes over for Ben Keech for his first ever season of coaching a high school basketball team.
"It's pretty exciting. We've got a pretty good group of girls," Hines said. "They all love one another, and they have a good time. I'm excited to have an opportunity to coach them."
While this is Hines' first season of coaching a team at the high school level, he has a lot of experience with the game between his playing days at Bishop Hogan High, Johnson County Community College and Central Missouri, as well as spending eight years as the director of sales and basketball operations at the College Basketball Experience next to Sprint Center. Hines has also had coaching experience through the Boys and Girls Clubs of Greater Kansas City, YMCA, Great American Basketball League, Upward Basketball, AAU and Ambassadors for Christ.
"I think my background kind of lends myself to be able to do this," Hines said. "Watching the girls play the last couple of years, I saw that there was a need and that's really why I'm here. Not that I'm some great coach or I'm here to save the day, but I think there's something that I can offer in terms of teaching that I think the school can benefit from."
Hines has brought a defense-first mentality to the Eagles squad, and junior center Maggie Friesen has enjoyed the energy that he has brought to the first few weeks of practice.
"We're really excited," Friesen said. "We really like him as a coach, and we're excited to see what the season brings coming off of a really bad season last year."
The first-year coach is still getting familiar with a lot of the Eagles players, but he knows one fairly well already, as his daughter, Phoebe Hines, is on the team.
The Eagles only lost one senior from last season in Blythe Asbell, who was Maranatha's leading scorer. While Friesen said it will be hard to replace Asbell, she believes that having a large majority of the team back will bode well for the Eagles.
"I'm just excited for the season to see all of these girls get better and work hard and win some games," Friesen said.
The Eagles will play host to University Charter Academy at 6 p.m. Dec. 13 for their season opener.
More like this story