Kaifes comes up clutch in season-opening win for Lady Jags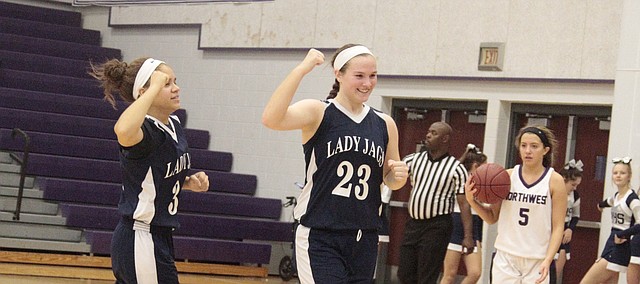 Overland Park — Mill Valley sophomore Claire Kaifes had gone cold from the perimeter after draining her first shot from behind the arc, but she found her stroke when it mattered most in the Jaguars' 44-39 overtime win over Blue Valley Northwest in the season opener for both teams.
After BV Northwest's Abby Bird opened the overtime period with a three-pointer, Kaifes answered with one of her own to tie it at 39-39. The triple snapped a streak of four straight misses for Kaifes from long distance.
"Honestly, in the gym with my dad, I've shot that three so many times in my head late in the game," Kaifes said. "I just had to trust my training and put it in."
Kaifes also helped fill the void in the post that was left by senior forward Ashlyn Hendrix, who left the game early in the third quarter after hitting the floor following a hard collision. Hendrix scored seven points to lead the Jaguars in the first half, but had to watch the rest of the game from the bench after incidentally getting hit in the head.
With the game still tied at 39-39 with 30 seconds left, Kaifes muscled her way into the paint to knock down a 10-foot jumper. The Jaguar sophomore also got fouled on the play, and hit the free throw to put Mill Valley up by three.
"That was a crazy shot," Kaifes said. "It was my first time being a post in a really game since Ashlyn went out. I had to really adjust to it, but I just had to work on my post moves a little bit and I'm just glad it went in."
The Jaguars came up with a stop after Kaifes' traditional three-point play, but the Huskies still had a chance to tie it when Evan Zars missed the front end of a 1-and-1 with 9.7 seconds to play. Bird traveled on the ensuing possession, though, and Zars iced the game with a layup as time expired.
Zars scored a team-high 13 points, and made two of the Jaguars' three second-half field goals. The 6-foot-1 junior forward got the ball with the game on the line at the end of the regulation. The Jaguars led 29-21 at halftime, but trailed 36-35 after a bucket from Bird with 1:45 remaining gave the Huskies their first lead since 3-2. Mill Valley still trailed by one with Zars took the ball to the rack with 10.3 seconds left in regulation. Zars got fouled, and made 1-of-2 free throws to force overtime.
"Her teammates wanted her to have the ball. They were telling her it was coming to her, and she was ready for it," Mill Valley coach Drew Walters said. "She has taken tremendous steps in being a leader and wanting that responsibility. She can do so many things. She's learning how good she can be."
While the Jaguars were thrilled to get a win in their Eastern Kansas League debut, they were also happy to get a victory for Walters in his first game as the varsity coach.
"It feels really good because he's coached me since freshmen year," Zars said. "It means a lot to me, and I'm glad he got his first win tonight."
Although Walters was pleased to come away with the win, there were still several things that he said that the Jaguars will have to clean up before Tuesday. The Jaguars committed 22 turnovers in their season-opening victory Friday.
"We're going to go through peaks and valleys," Walters said. "(It was the) first game, so we're going to learn a lot from it. I'm happy that we pulled through in the end and found a way."
The Jaguars will play their next two games against Sunflower League teams, as they travel Tuesday to Shawnee Mission Northwest before taking on Free State Dec. 9 in their home opener.
Artis commits to JCCC
One of the reasons Walters is confident that the turnovers will dwindle as the season goes on is the experience he has in his backcourt with the guard combo of seniors Courtney Carlson and Elena Artis. Artis, who transferred to Mill Valley by way of SM West, committed Nov. 21 to continue her career at Johnson County Community College next year.
"It's great for her because she doesn't have to think about it. Johnson County has been on her long before when knew she was coming toward us. It's exciting," Walters said. "She's a very exciting player. She's going to do a number of good things for us. We're still trying to get her worked in with us, but she's making those adjustments."
MV (44)
Presley Barton 1-8 0-0 3, Trinity Knapp 1-5 0-0 2, Claire Kaifes 4-9 1-1 11, Evan Zars 6-6 1-3 13, Elena Artis 4-7 0-0 8, Courtney Carlson 0-3 0-0 0, Ashlyn Hendrix 2-5 3-4 7. Totals 18-43 5-8 44.
BVNW (39)
Taylor Victorine 3-8 2-2 9, Raegan Phillips 3-9 1-2 7, Bridget Harrison 2-7 0-1 5, Evan Bail 2-11 0-0 4, Kate Kaufman 1-3 1-2 3, Abby Bird 4-8 1-4 11. Totals 16-46 5-11 39.
MV 16 13 4 3 8 – 44
BVNW 11 10 10 5 3 – 39
Three-point goals: MV 3-15 (Kaifes 2, Barton); BVNW 4-11 (Bird 2, Harrison, Victorine). Turnovers: MV 22, BVNW 10.
More like this story