Petersen, Cougars power past Vikings, 54-32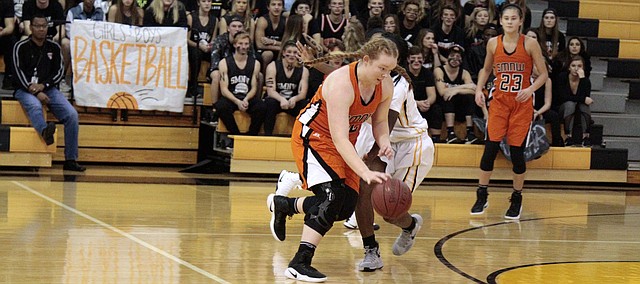 Overland Park — The nerves were running high for Shawnee Mission Northwest junior forward Sarah Petersen before the Cougars' season opener Friday at SM West, but one wouldn't know it by how she played.
Petersen — who suffered a season-ending knee injury early in her sophomore campaign — scored the first four points of the game and picked up one of her two charges in the first 90 seconds, as she set the tone in the Cougars' 54-32 win over the Vikings.
"It really helped my confident a lot because I was very unsure of my knee and how I was going to play," Petersen said. "I think it boosted the team, and it boosted myself. We just played off that energy."
Petersen went on to score eight points and pull down five rebounds, and formed a mean one-two punch in the paint with fellow junior Jordann Nachbar. Nachbar was a bucket shy of a double-double with eight points and 12 rebounds.
"She plays so hard, and she's just relentless on the basket and going after loose balls and shots up," SM Northwest coach Tyler Stewart said of Nachbar. "She just goes after it, and has that tenacity. I'm really proud of her and what she did tonight with her effort as well."
While Nachbar and Petersen paced the Cougars in the post, senior point guard Emmalee Rose poured in a game-high 17 points to lead the SM Northwest backcourt. Rose shot 5-for-8 from the field, and was a perfect 5-for-5 from the free-throw line.
"I think she's going to have a lot of big nights for us," Stewart said of Rose. "She doesn't have to lead us every night, but again, I think she's going to have to take charge, run our offense and continue to get us into good shots. If we can do that, she's going to have a great night most nights."
The Cougars had a balanced offensive effort with sophomores Hannah Black and Rachel Seibold also adding seven points apiece, but what also stuck out to Stewart was his team's defensive effort. Defense was the Cougars' calling card during their run to the Class 6A title game last season, and they were locked in again in Friday's opener. The Cougars shut out the Vikings for the first six minutes and 54 seconds of the second quarter, as they built a 24-15 halftime lead.
"That's what we pride ourselves on. A lot of people talk about offensive runs, but we talk about defensive runs," Stewart said. "How many stops can we get in a row? That's the culture that we wanted to bring here, and so far in the first game, the girls really stuck to it and defended. That's really what got us going."
The Cougars had three charges total, with Petersen drawing two and Black taking the other one.
"We have Hannah and Sarah that are big bodies like Brenni (Rose) and Dani (Rehor), so it really helps," Nachbar said.
Although the Cougars were full of confidence after their win over the Vikings, they were already starting to turn their attention to the next game on the schedule. It will be a quick turn-around, as the Cougars play Blue Valley at 7:30 p.m. Saturday at BV West in the Blue Valley/Shawnee Mission Shootout.
SMNW (54)
Abby Winter 0-0 3-4 3, Rachel Seibold 2-4 2-5 7, Haley Nunnink 2-2 0-0 4, Megan Nugent 0-2 0-2 0, Emmalee Rose 5-8 5-5 17, Hannah Black 2-3 3-4 7, Jordann Nachbar 4-7 0-1 8, Sarah Peterson 4-7 0-0 8. Totals 19-33 13-21 54.
SMW (32)
Jheda Kennedy 4-10 0-2 8, Emma Beason 1-1 0-0 3, Kayla Henrie 1-3 0-2 2, Ashlyn Henrie 2-8 0-0 4, Khaliah Hines 1-3 1-3 3, Megan Biehl 2-7 0-0 6, Kierra Prim 1-9 2-5 4, Macie Lee 1-3 0-0 2. Totals 13-44 2-9 32.
SMNW 15 9 15 15 – 54
SMW 11 4 7 10 – 32
Three-point goals: SMNW 3-6 (Rose 2, Seibold); SMW 3-15 (Biehl 2, Beason). Turnovers: SMNW 24, SMW 12.
More like this story