Woman arrested following early-morning disturbance at Walmart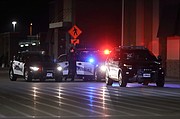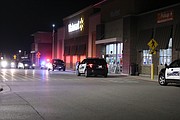 A Basehor, Kansas woman was arrested Saturday morning after struggling with officers in a Walmart parking lot.
Shawnee Police were called to the Walmart, 5701 Silverheel Street, at 2:46 a.m. on a reported disturbance between two women.
Recorded radio traffic indicates the two women were possibly mother and daughter. The caller believed the teenage female was sitting in a parked car, while the adult female had gone back inside the store.
"Officers attempted to arrest one female party who attempted to leave the scene," Shawnee Police Sergeant Ryan Robinson said in a news release. "She was taken into custody after a brief struggle."
Police say the woman also allegedly shoplifted items from thee store.
Not mentioned in the news release was the two occasions that officers at the scene called for emergency assistance. All seven on-duty Shawnee officers responded to the Walmart parking lot, both times. The second assist included a response from one Lenexa officer.
Shawnee Fire and Johnson County Med-Act also responded to the scene and treated the adult female, in police custody, for minor injuries. She refused transport to the hospital.
At the scene, Sgt. Robinson confirmed to Operation 100 News that no officers were injured in the struggle.
Two witnesses say the woman ran across the parking lot when approached by officers. Officers chased her and were able to take her into custody.
Johnson County Sheriff's Office booking logs show Michelle Vaughn, 36, of Basehor, Kansas was arrested in the incident. She has been charged with misdemeanor obstruction of the legal process. Vaughn was released from custody on Saturday afternoon after posting $500 bond. Her next court appearance is scheduled for Thursday, December 8.
No other information has been released.
---
Operation 100 News provides overnight news coverage for the Shawnee Dispatch. Follow on Twitter for real-time updates.