St. James girls basketball surges past Eudora in season opener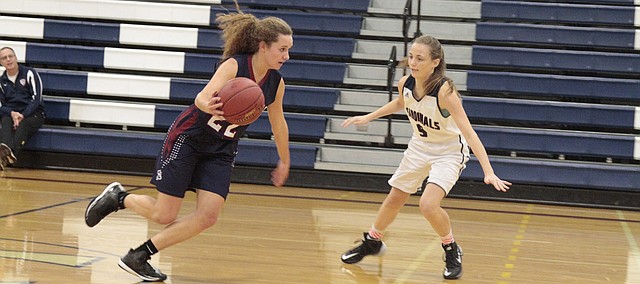 Eudora — St. James Academy senior Emily Kaufman had not been accustomed to playing in the post prior to this season, but she didn't show it in the Thunder's season-opening win over Eudora on Monday.
The St. James senior scored seven of her 14 points in the first quarter, as she led the Thunder to a 47-33 victory over the Cardinals in the first round of the Eudora Invitational.
"It feels really good considering all of the hard work that we've put in, and to finally pieces together and have everybody step up and do their part was a really great feeling," Kaufman said.
When senior forward Courtney Setter had to go to the bench after two quick fouls in the first minute, Kaufman went to work down low. Kaufman scored back-to-back buckets on assists from Mary Goetz and Audrey Jones, and then showed that she still had the ability to play on the perimeter by knocking down a three to fuel the Thunder to a 13-0 lead out of the gates.
"I know she's used to being a wing and stuff, but she's so good underneath the basket," Goetz said. "It's really comforting for me as a wing to know that whenever I have a drive, she'll be open for the dish. And she's very loud, so it's easy to get it to her."
The Cardinals did not score until Emily Watson hit a jumper with 35 seconds left in the first quarter. St. James coach Greg Hohensinner was proud of his team for executing the game plan he set out defensively.
"I scouted Eudora on Friday night, and they had 10 baskets that they scored off of penetration, and they were layups. I thought Eudora play a really good ball game Friday night against Spring Hill," Hohensinner said. "From my take, I went back on Saturday morning and go, 'You've got to stop the penetration because they are good drivers to the basket.' Overall, I think we did a pretty good job of doing that."
Goetz gave the Eudora backcourt fits for much of the night, as she came up with five steals. The St. James junior was unable to make any of her five shots from the field, but she still stuffed the stat sheet with five rebounds and three assists to go along with her three points from the free-throw line.
"Mary is really important to us defensively because she is just so scrappy," said Kaufman of Goetz. "She goes after every loose ball. She is always tied up on her man, so she forces a lot of turnovers on the defensive end."
While Kaufman and Goetz set the tone for the Thunder, Hohensinner was pleased to see a total team effort from his squad. Setter bounced back to score six points in the second half, and freshman Katelyn Hall joined Kaufman in double figures with 10. Hohensinner was encouraged to see that Hall didn't hold anything back in her first high school game, as she was four of seven from the field — including two three-pointers.
"I asked her tonight before the game, I said, 'How many shots do you think I want you to take?'" Hohensinner said. "She said, 'I think you want me to at least take 10.' I said, 'Absolutely.' She's a good shooter. She's a good ball player."
The Thunder will be back in action at 6:30 p.m. tonight against Piper, who defeated Harrisonville, 50-23, to reach the Eudora Invitational semifinals.
St. James (47)
Emily Kaufman 5-11 3-5 14, Torri Kempf 1-7 0-0 2, Brianna Steeler 1-1 0-1 2, Courtney Setter 3-6 0-2 6, Maddie Russell 1-1 0-0 3, Audrey Jones 2-5 1-2 4, Karissa Duker 0-2 0-0 0, Mary Goetz 0-5 3-6 3, Katelyn Hall 4-7 0-0 10, Anna Feldkamp 0-3 2-4 2. Totals: 17-48 9-20 47.
Eudora (33)
Reagan Hiebert 1-3 0-0 3, Riley Hiebert 5-7 2-2 13, Devin Purcell 0-3 0-0 0, Emily Watson 3-7 0-0 6, Katelynn Ormsby 0-1 0-2 0, Nicole Whitten 1-2 0-0 2, Catherine Grosdidier 4-10 0-1 8, Alaina Howe 0-4 0-0 0, Madison Roether 0-1 1-2. Totals: 14-40 3-7 33.
St. James 13 9 16 9 — 47
Eudora 2 9 9 13 — 33
Three-point goals: St. James 4-20 (Kaufman, Russell, Hall 2); Eudora 2-10 (Reagan Hiebert 1, Riley Hiebert 1). Turnovers: St. James 15, Eudora 16. Fouled out: Grosdidier.