Holiday spirit lights up Shawnee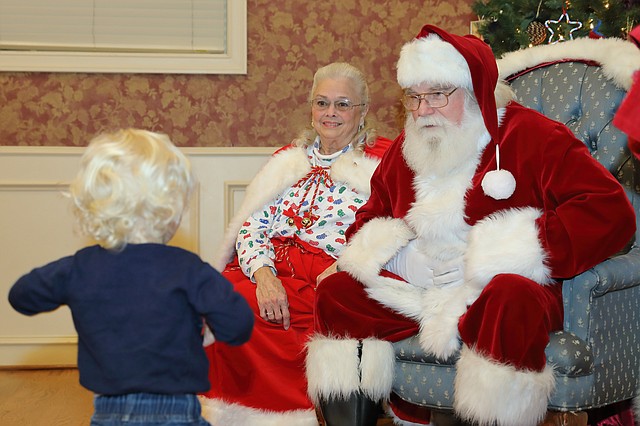 Families, bundled up in warm coats and thick scarves, enjoyed horse-drawn carriage rides around Shawnee Town 1929 Saturday evening.
Walking around the grounds, others drank hot cocoa and listened to old-fashioned carolers sing traditional Christmas ballads.
Inside Town Hall, a winding line of parents and children waited patiently to have photos taken with Santa Claus and his wife, Mrs. Claus.
As they waited for a chance to meet Jolly Old St. Nick, little ones practiced juggling with foam balls, dabbled in arts and crafts, and stacked giant cups in a play area.
Children also received candy cane balloons.
Outside, families stood mesmerized watching real reindeer snuggle in hay.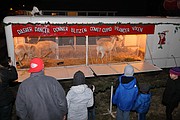 The holiday festivities at Shawnee Town 1929 were part of the city's "Christmas Around Town" celebration.
The event kicked off earlier Saturday evening at Shawnee City Hall where Mayor Michelle Distler, with the help of resident Robbie Marts, flipped the switch for the Christmas tree lighting.
Marts, who helped flip the switch last year, also holds a key to the city.
Not only was the tree decorated with lights, but it featured special ornaments handcrafted by children in the Shawnee community.
Residents were able to purchase ornaments for $5 prior to the lighting ceremony, with the proceeds benefiting the Mayor's Christmas Tree Fund.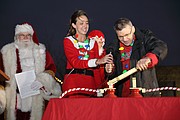 This year, the fund benefited two organizations.
At the lighting ceremony, Distler handed out two checks.
A $7,500 check was given to the Shawnee Lions Club, which plans to use the money to buy a vision screener that will be used in local schools to check hundreds of kids for possible eye conditions.
A $12,000 check was given to Rebuilding Together Shawnee which will use its share to help local residents who need repairs on their homes.
After the tree lighting ceremony, Santa and the crowd headed over to Shawnee Town 1929 for fun activities.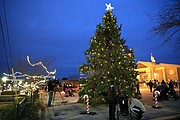 Hundreds of families enjoyed the event, with some even coming from other parts of Johnson County.
One of those families was Christine and Peter Mikhael, of Lenexa.
The couple brought their three-year-old daughter to meet Santa, enjoy hot cocoa, and get her face painted.
Like many others, they came to Shawnee to celebrate Christmas because they are impressed with the city's small town atmosphere.
"We love getting out as a family and doing fun events like this during the Christmas season," Christine said. "And people in Shawnee are so nice, so we like coming here."