SMNW

boys basketball pushes past Mill Valley, 51-44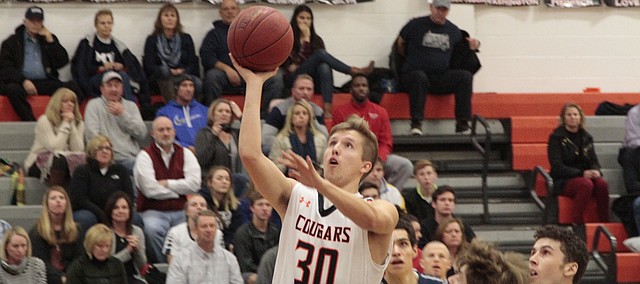 After a down-to-the-wire win against Shawnee Mission West on Friday, SM Northwest's boys basketball was riding high into its home opener Tuesday against Mill Valley.
The Cougars had the added excitement of donning their new home uniforms against the Jaguars, and they continued their winning ways with a 51-44 victory.
Northwest (2-0) was led by junior guard CC Ghilardi, who scored 15 points. Senior forward Noah Kendall joined Ghilardi in double figures with 12, and Randall Moore added eight.
The Cougars erased an eight-point halftime deficit by out-scoring the Jaguars, 14-2, in the third quarter. Northwest will be back in action Friday for a road matchup against Washburn Rural.
The Jaguars (0-2) were led again by Cooper Kaifes, who poured in a game-high 18 points. Mill Valley guard Blake Montgomery chipped in 13 points.
Mill Valley will try to get in the win column Friday in its home opener against Free State.
SMNW: CC Ghilardi 15, Noah Kendall 12, Randall Moore 8, Colton Skeens 5, Alex Oleson 6, Jaylen Love 3, Austin Heinisch 2.
MV: Cooper Kaifes 18, Blake Montgomery 13, Darius McLemore 6, Jansen McCabe 5, Ike Valencia 2.
SMNW 11 6 14 20 – 51
MV 14 11 2 17 – 44