Barton paces Mill Valley girls basketball in 54-42 win over Free State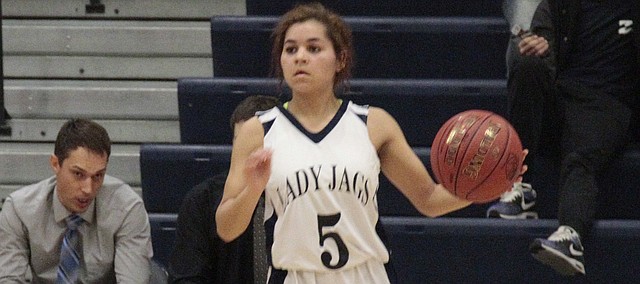 For a long-range shooter like Mill Valley sophomore Presley Barton, it doesn't take much to get in a rhythm.
Barton had struggled from three-point range in the Jaguars' first two games, but she caught fire on Friday in Mill Valley's 54-42 win over Free State with a game-high 19 points.
"I was so excited," Barton said. "The first shot I knew I was going to be on fire. I felt it."
Barton drained her first three-pointer in the first quarter to give the Jaguars a 9-6 lead, but she really got going in the second when the Firebirds had started to take control. The Firebirds had their biggest lead at 22-13 when Barton went on a personal 7-0 run to cut the deficit to two.
Free State freshman Caely Kesten briefly stopped the run for a brief moment with a bucket to push the Firebirds' lead back to four, but the Jaguars closed the half on an 8-0 run to take a 30-24 into the break. The Jaguars never trailed in the second half en route to a win in their home opener.
"She (Barton) hit her first shot and obviously you're feeling good, and I think that led into her playing very well. Sometimes that's just your spark," Mill Valley coach Drew Walters said. "Part of it was we had much better ball-movement in pockets, and the ball didn't stick tonight. We kept it moving. That's how we got a lot of good looks."
While the Jaguars offense was clicking on all cylinders, Walters' squad was also able to shut down one of the Sunflower League's most prolific scorers in senior Madison Piper. Mill Valley senior Courtney Carlson was the primary defender on the Santa Clara signee, and held Piper to 10 points on just seven shots from the field.
"Courtney did a fabulous job obviously, but you have to prepare for her and you have to prepare for her and you have to work on what it is going to take to guard her," Walters said. "Courtney did a fabulous job, and the team helped when they needed. We had to change the way we play defense to make sure Courtney could stay on her, so it was the team understanding what we needed to do to limit her touches."
The Jaguars (2-1) were able to bounce back from their first loss of the season on Tuesday at Shawnee Mission Northwest. Walters was frustrated that the Jaguars did not get the ball in the post in their loss to the Cougars, and thought his team did a much better job of doing so against the Firebirds.
"I think we actually started getting the ball inside and playing inside-out and not just settling for threes, which is why we made more," Walters said. "The ball went inside-out, which is what we've been talking about."
Mill Valley will be back in action for a home matchup at 7 p.m. Thursday against SM East.
Free State (42)
Madison Piper 3-7 3-4 10, Cameryn Thomas 2-3 3-5 7, Sam Lawrence 1-4 0-0 2, Erin Cushing 0-2 2-2 2, Jaelyn Two-Hearts 5-11 0-0 12, Caely Kesten 4-9 0-0 8, Haley Hippe 0-0 1-2 1, Jaycie Bishop 0-1 0-0 0. Totals: 15-36 9-13 42.
Mill Valley (54)
Claire Kaifes 4-6 0-1 8, Evan Zars 2-5 0-0 4, Trinity Knapp 1-1 0-0 2, Elena Artis 4-9 2-3 11, Courtney Carlson 1-3 0-0 3, Presley Barton 7-10 2-4 19, Payton Shurley 1-1 0-0 2, Adde Hinkle 2-3 0-0 5. Totals: 22-38 4-8 54.
Free State 13 11 12 8 — 42
Mill Valley 11 19 16 8 — 54
Three-point goals: Free State 3-9 (Two-Hearts 2, Piper); Mill Valley 6-11 (Barton 3, Hinkle, Carlson, Artis) Turnovers: Free State 8, Mill Valley 11.