Mill Valley boys hoops falls to Free State despite 33 from Kaifes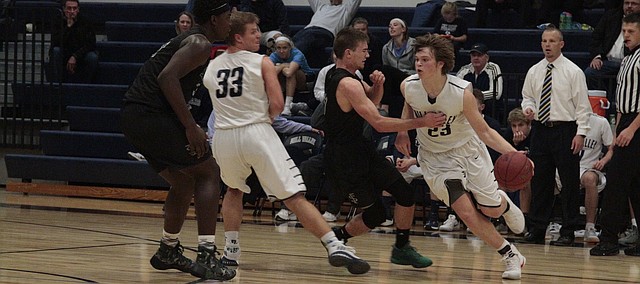 The third quarter has not been kind to the Mill Valley boys basketball team through the first three games of the season.
The Jaguars did their best to try to change that on Friday in their 68-60 loss to Free State, but they were unable to sustain their hot start to the second half.
Mill Valley trailed Free State, 30-26, at halftime, but a Mason Little three-pointer capped a 10-4 run to give the Jaguars their first lead at 36-34. That went on to be the only lead for the Jaguars, though, as the Firebirds closed the third on a 10-3 spurt.
Free State senior Sloan Thomsen hit two of his four three-pointers during that stretch, as he led the Firebirds with 20 points.
"We've struggled in the third quarter this season and to see us grab the lead and do some good things, hit some shots, I thought we had some momentum going," Mill Valley coach Michael Bennett said. "To see six points right off the bat, it kind of deflated our efforts a little bit. But credit to our guys. They didn't stop fighting. They did a great job of fighting back and continuing to play to the end."
The Firebirds led by as many as 10 early in the fourth quarter, but Mill Valley junior Cooper Kaifes did not let the Jaguars go quietly. Kaifes poured in 12 of his game-high 33 points in the fourth, and received high praise from both Bennett and Free State coach Sam Stroh.
"He's a great player, and we'll see him again next year," said Stroh of Kaifes. "He can shoot it."
As the lone returner starter from last year's state championship team, Kaifes has led the Jaguars in scoring for the first three contests. Bennett said the 6-foot-3 guard has thrived by setting high goals for himself.
"He expects to play well, and do big things for this team and lead this team," Bennett said. "Not just offensively, but defensively. He expects that, and we expect that as well. I think it starts with him. That's his expectation."
Despite Kaifes' efforts, the Jaguars are still searching for their first win after dropping to 0-3 after Friday's loss to the Firebirds. Bennett told his players to keep their heads high, though, as they head into their next game at 7 p.m. Tuesday at Blue Valley North.
"I just think we have to have the mindset that we need to keep fighting. It's just something that it's not that we don't want to come out. Sometimes the energy level to get started back up isn't where it needs to be," Bennett said. "That's just what we've really tried to preach the last couple of practices is trying to pick things up. When we shoot free throws, boom right into something that's high-energy, high-pace to see if we can't get ourselves going again right from there."
Free State (68)
Simon McCaffrey 0-1 1-2 1, Jay Dineen 3-4 8-12 14, Sloan Thomsen 6-11 4-4 20, Jacob Pavlyak 2-4 0-0 4, Shannon Cordes 5-10 5-6 16, Cameron Clark 4-8 0-4 8, Jalan Robinson 2-4 1-4 5, Avant Edwards 0-1 0-0 0. Totals: 22-43 19-32 68.
Mill Valley (60)
Cooper Kaifes 10-18 9-10 33, Blake Montgomery 0-5 0-0 0, Darius McLemore 2-3 0-0 4, Brody Flaming 0-1 2-2 2, Ike Valencia 5-8 0-0 10, Jansen McCabe 1-1 0-0 3, Jack Cooper 0-1 0-0 0, Mason Little 2-6 0-0 5,Tanner Moore 1-6 0-0 3. Totals: 21-49 11-12 60.
Free State 15 15 16 22 — 68
Mill Valley 9 17 13 21 — 60
Three-point goals: Free State 5-14 (Thomsen 4, Cordes); Mill Valley 7-22 (Kaifes 4, Little, McCabe, Moore) Turnovers: Free State 9, Mill Valley 10. Fouled out: Pavlyak.
More like this story