MV

's Applebee named

KFBCA

5A

COY

; six area football players earn all-state honors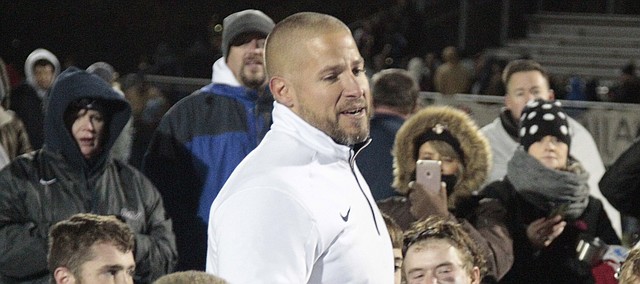 After guiding Mill Valley to a second straight state title, Joel Applebee was named Class 5A Coach of the Year by the Kansas Football Coaches Association on Monday.
Applebee's squad rebounded from a 3-4 start to rattle off six straight wins to defend its 5A crown. The Jaguars capped off their season with a 35-34 double-overtime victory over Goddard.
Three of Applebee's players earned all-state honors in seniors Keegan Zars (offensive line), Ben Hartman (wide receiver) and Joel Donn (defensive back). Donn was also a KFBCA Top 11 selection. The Jaguars free safety finished the season with 193 tackles, and had an interception in the first quarter of the state championship game.
Hartman had a standout performance in the state title game as well — hauling in five receptions for 97 yards and two touchdowns. The senior wideout finished the season with 64 catches for 1,008 yards and 14 touchdowns.
Zars helped pave the way sophomore running back Cameron Young to be the leading rusher of the Eastern Kansas League with 1,546 yards and 13 scores. The Mill Valley left tackle also helped protect junior quarterback Brody Flaming's blind side, as he threw for 2,700 yards and 33 touchdowns to just 12 interceptions.
The Mill Valley trio was joined on the 5A all-state team by the St. James Academy duo of Travis Pickert (defensive end) and Nick Kalny (offensive line).
Pickert led the Eastern Kansas League in sacks with 12 sacks. The two-way Thunder player also caught three touchdowns as a tight end. The recruiting trail has continued to heat up for Pickert, as he visited Northern Iowa over the weekend.
Rounding out the all-state selections from the Shawnee area was Shawnee Mission North quarterback Will Schneider. The left-handed gunslinger broke the all-time state passing yards record in his final game in an SM North uniform. Schneider — a four-year starter — finished his career with 8,901 passing yards. The SM North three-sport athlete was a Thomas A. Simone Award finalist for the most outstanding player in the Kansas City area.