Johnson County mourns the loss of an icon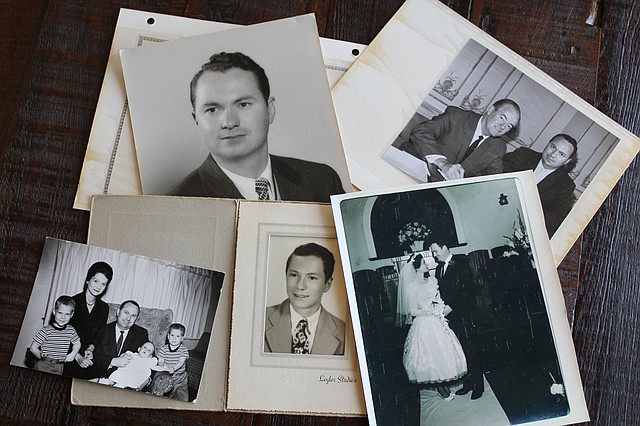 He wasn't after money or power or prestige.
Marvin Rainey was simply a blue-collar lawyer with a firm belief in progress and a dedicated passion for making Johnson County a better place to live.
Or, as his son, Mark, plainly states: "He was one of the good guys."
On Dec. 3, however, Johnson County lost one of its brightest stars when Rainey, 83, passed away due to complications from a fall.
He left behind a legacy that helped shape the county into the flourishing part of Kansas it is today.
As the mayor of Overland Park in the 1960s, his vision of the future helped the city grow.
As the city attorney of Shawnee for 30-plus years, he kept the city in line.
He was a proud Democrat in a vastly Republican county.
But before he rose to the top, Rainey arose from humble beginnings.
In 1933, he was born on a farm in Missouri, northeast of St. Joseph. As a kid, he would sometimes tumble to his one-room schoolhouse in a horse-drawn wagon, or walk there with his older brother.
When he was 14, his family moved to the then-outskirts of Overland Park, near where the current city hall now stands.
The start of his adulthood was the start of a beautiful life.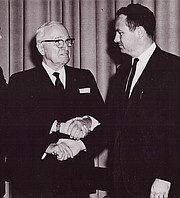 He married the girl of his dreams, the vivacious Elisabeth; he graduated from law school at the University of Missouri at Kansas City; and he embarked on a journey where doing the right thing was the only thing to do.
A week after his passing this month, at the home of his oldest son Ellis, all three of his children, including Mark and daughter Anne Clancy, sat around the kitchen table, reminiscing about their father and pouring over an old scrapbook their late mother lovingly pieced together in the 1960s.
"It's fascinating looking back at his early career because we were too young to know what was happening at the time," Mark said, examining each yellowed, brittle news article.
Old-fashioned headlines shout the accomplishments of Rainey, who was appointed as the Johnson County Election Commissioner in 1958, and then elected as the second mayor of Overland Park in 1963, with a re-election in 1965.
"Overland Park aims to south," blasts one Kansas City Star article from March 2, 1965, focusing on the governing body's attempts to annex land.
"OP mayor promises 'downtown aid,'" another article from 1963 stated, discussing Rainey's promise to find ways to enhance the area.
News ink jumping from the pages of other stories reveal an elected official dedicated to the city's progress and growth.
Rainey was instrumental in welcoming the Metcalf South Shopping Center to Overland Park, he helped with plans for I-435, and he was an early advocate for city government transparency, firmly believing city business should not be conducted in private and elected officials should be accessible to journalists.
It was also during his tenure that Overland Park annexed land south of I-435, including College Boulevard all the way to 119th Street.
In 1974, Rainey was appointed the Shawnee City Attorney and in his first year, drafted an ordinance that allowed voters to decide on the city's future form of government, a manager/mayor/council form, which is still operated today.
He also tackled numerous high-profile cases for the city.
In her eulogy at Rainey's funeral, Shawnee City Manager Carol Gonzales stated, "But the issues and the lawsuits that got the headlines are a small piece of what I'll always cherish about Marvin. Marvin never let us down when it came to the basic blocking and tackling of city government – the everyday stuff that wasn't sexy but had to be dealt with. He was always there for Shawnee, and we could count on him."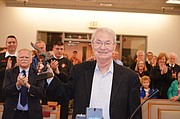 It's a sentiment many of his friends echo.
Annabeth Surbaugh, the former Johnson County Commissioner Chairperson, met Rainey 35 years ago when she was getting her feet wet as a community activist.
Although she was a Republican and he was a Democrat, the two future friends agreed on several issues.
"Honestly, you could spend a month calling every person he knew and you wouldn't find one person who could say anything bad about Marvin," she told the Dispatch. "He was such a genuine, wonderful person who was very knowledgable. He sincerely cared about what was best for Johnson County."
And although he was a dedicated community leader and a hardworking attorney, his devotion to his family never came second.
"He was a great father," said Ellis, the current Shawnee City Attorney. "He had a very close, special relationship with our mother. Our family was very lucky."
Now that he's gone, his friends and family are left with the memory of his warm smile and the fun stories he's left behind.
Ordering his first alcoholic beverage with John F. Kennedy at a Leawood cocktail party.
Hanging out with Mickey Mantle in Kansas City.
Meeting numerous U.S. presidents, from Harry S. Truman to Bill Clinton.
They can still hear his voice and see the twinkle in his eye when he shares each gem.
But despite the memories, the one thing his family and friends will miss the most is him.
More like this story