Kaifes' big second half not enough for
MV

boys hoops in loss to

BV

North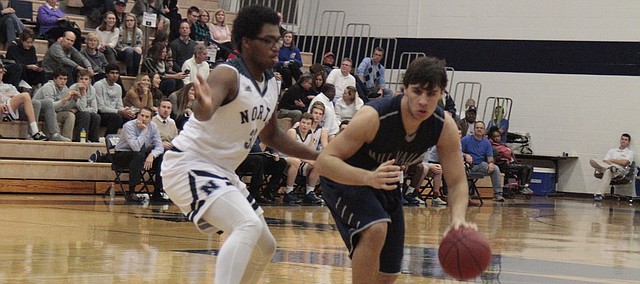 Overland Park — The Mill Valley boys basketball team already had a tough task at hand with playing Blue Valley North (3-0, No. 2 in Class 6A) on the road in its final game before winter break.
That task became even tougher when Mill Valley junior Cooper Kaifes — the Jaguars' leading scorer — picked up two fouls in the first four minutes of their 64-44 loss to the Mustangs on Tuesday.
After BV North scored on its first two possessions to take a 5-0 lead, Kaifes drew his first foul on a charge. Mason Little and Blake Montgomery each scored a bucket each to get the Jaguars going in the opening minutes, but Colby Bullock picked up the second foul on Kaifes at the 4:06 mark of the first quarter on a traditional three-point play to push the Mustangs' lead to 11-4.
Kaifes did not return for the rest of the half, and the Mustangs built a 30-9 lead going into the break.
"We have to be able to play without him. If we can play without him and put our team in position where they don't have to rely on Cooper, then we're going to be better in the long run," Mill Valley coach Michael Bennett said. "It's good for us even though the outcome wasn't what we wanted. We didn't play very well first half. It just allows us to see, 'OK, this is what we have to do and these are the corrections we have to make. These are the things that we have to do as a team to get better, and one of those is playing without somebody that gives us a lot of points.'"
Kaifes came out firing in the third quarter, and ended up scoring all of his team-high 23 points in the second half. Two Kaifes free throws cut the Jaguars' deficit to 46-32 at the beginning of the fourth quarter, but that was as close as Mill Valley would get the rest of the way.
The Jaguars (0-4, No. 6 in Class 5A) were unable to slow down the Mustangs, who had three players score in double figures. Colby Bullock led BV North with 17 points, and Dylan Freberg and Nick Orr added 11 and 10, respectively.
Bennett said there were plenty of lessons to be learned from Tuesday's loss, and he looks to take full advantage of the Jaguars time off before their next game, which will be on Jan. 6 against Bishop Miege.
"We need winter break like it was yesterday. We've got a lot of kids that one, are still trying to get in shape from football. Two, just making sure that we're all cohesive, and we're not right now," Bennett said. "We're not cohesive. We really need winter break. We need to not have games. We need to practice, practice, practice. So yeah, we're really looking forward to winter break."
Three of the Jaguars' first four losses have come against top 10 teams in Class 6A, as they have fallen to No. 1 BV Northwest, No. 2 BV North, No. 9 Free State and unranked SM Northwest — which still boasts a record of 3-1.
Kaifes is the lone returning starter from Mill Valley's 2015-16 state championship squad, but Bennett has stressed to his team that there is still plenty of time to rebound from an 0-4 start to make a run at another title.

"This is just preparation. When you look at these games, sure it's a conference opponent (BV North) and a quality, quality opponent, too, but it just gets us ready for what the state tournament is like," Bennett said. "We've got to get ourselves going in the right directions and make sure that we make the proper adjustments so that we are ready for that time."
BV North (64)
Jake Gittemeier 0-1 0-0 0, Colby Bullock 6-12 5-5 17, Eric Baston 1-1 0-0 2, DreSchaun McCallop 1-2 0-1 2, Wyatt Turner 3-4 0-0 8, Miles Emery 3-3 1-2 7, Keilon Hunter 1-2 0-0 3, Dylan Freberg 5-6 1-2 11, Preston Shanahan 1-3 0-0 2, Nick Orr 5-7 0-0 10, Gus Freeman 1-1 0-0 2. Totals: 27-43 7-10 64.
Mill Valley (44)
Cooper Kaifes 8-18 3-4 23, Blake Montgomery 2-6 0-0 4, Darius McLemore 0-3 0-0 0, Brody Flaming 0-4 1-2 1, Ike Valencia 0-3 2-4 2, Jansen McCabe 1-4 0-0 2, Jack Cooper 0-0 0-0 0, Mason Little 2-4 0-2 4, Tanner Moore 3-5 0-0 8, Jack Cooper 0-2 0-0 0, Logan Talley 0-1 0-0 0. Totals: 13-42 6-12 44.
BV North 16 14 16 18 — 64
Mill Valley 4 5 21 14 — 44
Three-point goals: BV North 2-8 (Turner 2, Hunter); Mill Valley 6-21 (Kaifes 4, Moore 2) Turnovers: BV North 7, Mill Valley 11.