SM

North girls basketball bolts past University Academy, 57-15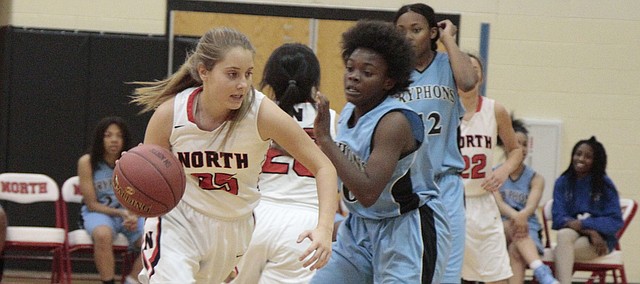 Overland Park — The first few weeks of the season for the Shawnee Mission North girls basketball team have been filled with learning for the Indians — who lost seven seniors from last year's squad.
The Indians (3-2) know that there will still be a series of growing pains throughout the course of the season, but Thursday's 57-15 victory over University Academy Charter allowed them to reap the benefits of the hard work they've put in thus far.
"I think we did really good as a team, and we're really starting to get it and work together," junior Mackenzie Vielhauer said. "This is all new for us. None of us had much varsity time last year, so we're working good."
The outcome was never really in doubt after the Indians jumped out to a 20-2 lead after the first quarter — thanks to 13 combined points from freshman LeLe Love and Hannah Redick — but SM North went cold offensively in the second period. The Indians received a spark from Vielhauer late in the first half and early in the second, as she scored all nine of her points during a 13-5 run.
Vielhauer, Love and senior Sarah Boyce made it a point to go after offensive rebounds, and also flustered the Gryphons defensively with four steals apiece.
"That's something we focus on in practice is getting rebounds, and then once we get the rebounds, being able to put the ball back up and finishing it," Vielhauer said.
The Indians were led offensively by Love, who poured in a game-high 19 points. A big smile came to Vielhauer's face when talking about the potential of Love, who is SM North's leading scorer as a freshman.
"LeLe is great," Vielhauer said. "She really motivates our team and brings us together. I feel like she makes us stronger overall."
Love started one of eight from the field, but heated on in the second half to finish the night six of 16. The 6-foot freshman is confident in her ability to score, but she prides herself on the defensive end — especially when her shot isn't falling.
"We get deflections," Love said. "That's what we practice is getting deflections and getting steals."
North coach Brian McIntosh is excited to see what the potential can be for Love if she steadily improves throughout the season and for her career.
"She has a chance to be a very special player. I like how she's getting other people involved. She makes the right pass when she needs to, so that's a great thing for her," McIntosh said. "I thought she did a great job on the glass tonight, too, and keeping the ball alive. Her defense is really underrated probably as far as people that just watch the game. She gets a lot of deflections, and she makes a lot of plays for her teammates because she draws so much attention."
McIntosh has been pleased with the overall effort from his young squad this season, but acknowledged that the Indians will be tested when they go into Sunflower League play after winter break.
"We've grown up a lot in these five games, and we have to continue to do that," McIntosh said. "There's going to be a lot of adversity for us this year, and a lot of our success is going to depend on how we handle those things down the road."
The Indians will begin their Sunflower League schedule on the road against Olathe North at 5:30 p.m. on Jan. 3.
SMN (57)
Michelle Zehr 1-1 0-0 2, Mireyah Bortka 0-2 2-2 2, Sarah Boyce 1-1 5-6 7, Noel Rivera-Watkins 1-4 0-0 2, Cadence Ashlock 0-0 0-0 0, Ariana Quijas 1-5 0-0 2, Tiana Lee 1-2 0-0 2, Mackenzie Vielhauer 4-8 1-2 9, LeLe Love 6-16 7-14 19, Hannah Redick 2-11 1-2 7, Katie Stiers 0-0 3-3 3, Madison Rosas 1-2 0-0 2. Totals: 18-52 19-29 57.
UAC (15)
Raina Pace 2-2 0-4 4, Jenique Graham 2-6 0-2 5, Samiah Hafiz 0-1 1-4 1, Autumn Wyatt 0-0 1-2 1, Ariyonna Baston 0-3 1-3 1, Ke'Ona Herron 0-4 1-2 1, Avionne Jones 0-0 2-2 2, Tamya Gibson 0-2 0-2 0, Eriana Townes 0-4 0-0 0. Totals: 4-22 6-21 15.
SMN 20 10 21 6 — 57
UAC 2 8 2 3 — 15
Three-point goals: SMN 2-12 (Redick 2); UAC 1-4 (Graham) Turnovers: SMN 15, UAC 35.
More like this story