New Shawnee liquor store gets into the holiday 'spirit'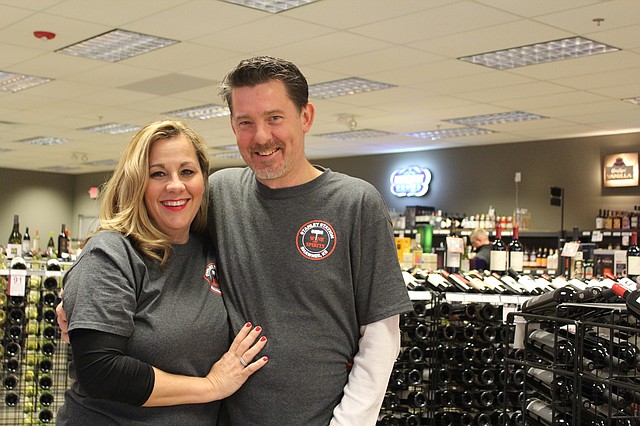 With Christmas peeking around the corner, the recently opened Stanley Station Wine & Spirits is buzzing with customers.
Fridays through Sundays, the liquor store, located at 13231 Shawnee Mission Parkway, offers tastings for everything from wine to whiskey.
Wine bottles have also been flying off the shelves.
And somehow in the midst of the bustling holiday chaos, owners Scott and Lisa Kaczmarek still manage to grace the bottle-lined aisles with genuine smiles on their faces.
Their enthusiasm stems from pursuing their passion.
Both Scott and Lisa left behind corporate careers to jump into the liquor store business.
One of the reasons they chose to sell liquor, as opposed to other items, was because of the festive environment attached to its stores.
"People come here because they're hosting a party or having a wedding," Lisa said. "I'd say 99 percent of our customers are generally happy, which is not something we're used to coming from a corporate background. We wake up in the morning and we can't wait to go to work."
The couple, who have three teenage sons, first bought the New Stanley Station Liquor, in south Overland Park, in April 2015.
The liquor store, which already had a devoted customer base, was a chance for the new owners to learn the business from a successful perspective.
When revenue from that store grew substantially, the couple decided to open a new location in Shawnee.
Stanley Station Wine & Spirits is two and a half times bigger than its Overland Park counterpart. It offers more than 5,000 different products.
It also features a walk-in humidor, selling cigars and pipe tobacco, and a party shop, selling mixers and gift items.
The Kaczmareks chose to open in Shawnee because it's a growing community. Plus, being on Shawnee Mission Parkway, between two interstates, offers convenience to customers.
"We've had a shockingly good experience in Shawnee, working with everyone from City Hall to the Chamber of Commerce," Scott said. "The reputation of Shawnee has really stood out."
His wife agrees.
"Shawnee has a small-town feel, which is really cool," she said. "I'm really happy we chose this location."
Although the couple went straight from the corporate lifestyle to being business owners, the move wasn't entirely out of left field.
Both Scott and Lisa are avid social drinkers who already had a solid knowledge of wine, beer and liquor.
Plus, in the 1990s, Scott used to own a bar in San Diego.
But despite their prior wisdom, the two admit they still have a lot to learn.
After all, the craft beer business is exploding, bringing new brews and brands on a constant basis.
There are also a mind-blowing number of varieties of wine and liquor, Scott pointed out.
With each new fact they unearth, they can't wait to share it with their customers.
Although Stanley Station Wine & Spirits has only been open since Nov. 10, the Shawnee location has already grown a loyal following.
"We don't want to be that place where people just grab a bottle of wine and go home," said Lisa. "We want them to enjoy being here."
After the holiday season is over, the business owners will start focusing on the future.
They hope to not only get a website up and running one day, but create a blog where they can educate customers about fun alcohol facts.
And of course, keep the festive atmosphere of their store on tap.
For more information about Stanley Station Wine & Spirits, or see a calendar of events, visit them on Facebook.