Shawnee police help Secret Santa spread holiday cheer through city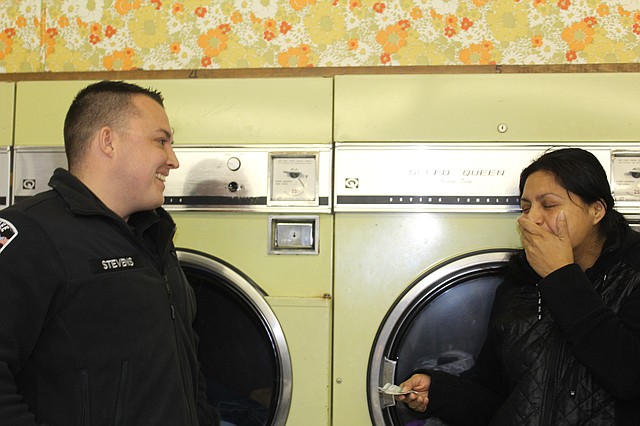 Shawnee police officer Jeff Stevens hit his red and blue lights and pulled over a car with expired tags.
When he approached the car, the driver, a middle-aged woman, apologized through exhausted tears and told him she just wasn't having an easy week. Her father-in-law recently died and her family was struggling financially to plan his funeral.
After checking her license and registration, Stevens approached the car again.
But, he didn't hand the driver a ticket. He handed her a $100 bill.
The woman broke down sobbing and the two of them hugged.
The heart-wrenching moment was just one of many emotional interactions between police officers and Shawnee residents this month.
Thanks to a generous Shawnee "Secret Santa" who donated $10,000, the city's police department is handing out $100 bills to residents in need.
The donor wanted to help financially struggling residents, plus strengthen the ties between the police department and the public, Shawnee police Maj. Dan Tennis told the Dispatch.
For the past couple weeks, police officers have been around town, handing over the money to residents they truly feel need it this time of year.
Sometimes the officers will give the money to someone they meet during an incident, while others choose someone they come across on a whim.
"Our officers are out there 24 hours a day, running into folks who might be in the worse time of their life and they need help," Tennis said. "To be able to actually help during that time is powerful. We've had long-term veterans getting teary-eyed telling us about the people they've met."
Stevens, who has been a police officer for seven years, said he hopes the act will help foster a positive relationship with residents.
"This gives people the opportunity to put a face to a badge and see us as humans," he said. "Hopefully they will see that not every interaction with us has to be negative. What you see in the media isn't representative of all of us."
The first Secret Santa mission Stevens went on was on Friday morning, when he delivered a crisp $100 bill to Erin Williams, a Shawnee resident he met a couple months ago.
Williams' van was stolen right out of her garage back in October and Stevens was the responding officer.
"At the time, it was really evident to me how much she loved her kids because when her van was stolen, her biggest concern was that she didn't want the news to upset her kids," he said. "As soon as I heard we were doing Secret Santa this year, I knew she'd be perfect."
Williams, a single mom with two kids, shrieked in excitement when Stevens presented her with the money.
To say this past year has been tough is an understatement, she told the Dispatch. After all, she also lost her job in the spring.
"I'm going to be honest, he (Stevens) scared me a little when I saw him at the door, because my heart was pounding and all I could think was, 'oh no, what happened now?'" she said, with a laugh. "This is just awesome."
An hour later, Stevens had the opportunity to touch another woman's life.
While chatting with residents inside a Shawnee laundromat, near 75th Street and Quivira Road, he met Edaena Cobos, who lives in a nearby apartment complex with her husband and four kids.
After explaining how her husband works two jobs to support their family, her kind smile dissolved into shocked tears when Stevens pulled out a hundred dollar bill to give her.
For a moment, she stood there crying, unable to say a word.
"I'm very happy and surprised," was all she could manage to say, while her 3-year-old daughter, Teresa, looked on curiously.
That reaction, a mixture of surprise and joy and gratefulness, tugs on each officer's heartstrings with the passing of every hundred dollar bill.
It's those little snapshots, frozen emotions in time, each officer will never forget.
It's the spirit of the holiday season.
"To some, a hundred bucks isn't a lot, but to others that amount is life-changing," Tennis said. "It could be the difference in having food for your family or not. Until you walk through someone's front door, you have no idea what is going on in their life."